PREVENTING CARBON MONOXIDE POISONING IN THE HOME – A REMINDER WITH THE COLDER WEATHER
PREVENTION, SYMPTOMS, TREATMENT
Carbon monoxide is produced when fuels such as gas, oil, coal and wood do not burn fully.
Gas, oil, coal and wood are sources of fuel used in many household appliances, including: boilers, gas fires, central heating systems, water heaters, cookers and open fires.
Incorrectly installed, poorly maintained or poorly ventilated household appliances, such as cookers, heaters and central heating boilers, are the most common causes of accidental exposure to carbon monoxide.
Other possible causes of carbon monoxide poisoning include: blocked flues and chimneys – this can stop carbon monoxide escaping, allowing it to reach dangerous levels or burning fuel in an enclosed or unventilated space – for example, running a car engine, petrol-powered generator inside a garage, or a faulty boiler in an enclosed kitchen.
SYMPTOMS
The symptoms of carbon monoxide poisoning are not always obvious, particularly during low-level exposure. A tension-type headache is the most common symptom of mild carbon monoxide poisoning. Other symptoms include: dizziness, feeling and being sick, tiredness and confusion, stomach pain, shortness of breath and difficulty breathing. The symptoms of exposure to low levels of carbon monoxide can be similar to those of food poisoning and flu.
The longer you inhale the gas, the worse your symptoms will be. You may lose balance, vision and memory and, eventually, you may lose consciousness. This can happen within 2 hours if there's a lot of carbon monoxide in the air.
TREATMENT
Seek medical advice from your doctor if you think you have been exposed to low levels of carbon monoxide. Call 112 straight away if you think you have been exposed to high levels.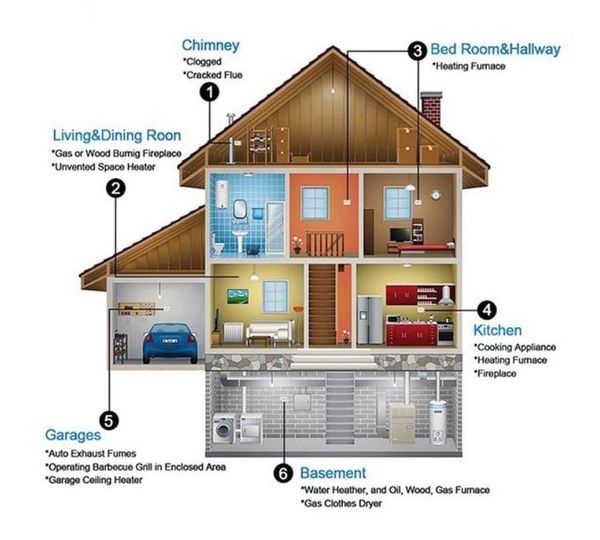 PREVENTION
It's important to be aware of the dangers and identify any appliances in your house that could potentially leak carbon monoxide. Boilers, cookers, heating systems and appliances should be installed and regularly serviced by a reputable, registered engineer. Do not attempt to install or service appliances yourself.
Install a carbon monoxide alarm in your home to alert you if there's a carbon monoxide leak. Make sure it's approved to the latest European Standard (EN50291).
However an alarm is not a substitute for maintaining and regularly servicing household appliances.Source: NHS