MEETING BETWEEN RUSSIAN AND UKRAINIAN NEGOTIATORS HAS ENDED.
BREAKING NEWS: 1600 HRS Breaking: Russia is beginning to withdraw some forces from around the Ukrainian capital Kyiv, in what the US assesses is a "major" strategy shift, two senior US officials state. US is already observing movements underway of Russian Battalion Tactical Groups (BTGs) 1/
DEPUTY RUSSIAN DEFENCE MINISTER ANNOUCES PLAN TO drastically" reduce military activity in the Ukrainian cities of Kyiv and Chernihiv.
Teams had been meeting in Istanbul to try and agree a ceasefire, and an end to the conflict in Ukraine.
Roman Abramovich was present for the talks, but not officially part of the negotiating teams.
Meanwhile, Russian negotiator Vladimir Medinsky told Russian state television that he hoped a statement would be released in several hours.
Kyiv's delegation has revealed some of what was covered in Istanbul this morning.
Ukraine's negotiators say a "security guarantee system" was discussed, which would include measures like having no foreign military bases on its territory.
Countries such as Turkey, Poland and Canada are seen as being the guarantors in that process.
Negotiators added a referendum would likely be held over any Russian terms, and that Ukraine would want full peace agreements in place.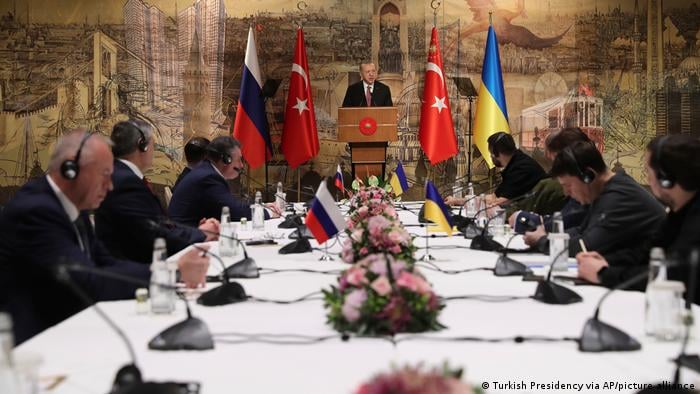 Ukraine would agree to neutral status if its proposals are agreed, they added.
Russia simply described the talks as "constructive" and that the outcome would be reported to Vladimir Putin.
Russia's defence minister Sergei Shoigu earlier repeated comments that suggested Moscow may be preparing for a climb down from its initial stated aims in the invasion – and, potentially, seeking to justify a peace settlement while attempting to avoid perceptions of a humiliating defeat in the conflict.
The Russian Defence Ministry announced after the meeting that it plans to "drastically" reduce military activity in the Ukrainian cities of Kyiv and Chernihiv, for the benefit of peace talks. " Bearing in mind the principles discussed today during today's meeting, in order to increase mutual trust and create the necessary conditions to carry out the negotiations and reach the joint objective of signing an agreement, the decision was taken to drastically reduce the activity military in Kyiv and Chernihiv", said Alexander Fomin, Russian deputy defence minister, according to the Ria news agency.