Tropical Cyclones are weather systems that can cause considerable damage to both life and property.
As global climate change continues to be an area of concern and significant scientific inquiry, there are many questions on how tropical cyclones frequencies and intensities may be affected by a warming climate.
In the North Atlantic, most systems originate and remain near the Caribbean Sea, the Gulf of Mexico and even along the east coast of North America. Only a few actually reach the western and northwestern Europe.
Although rare, occasionally Tropical Cyclones can bring strong winds and heavy rain to Western Europe, including Portugal. Cyclone Vince from 8-11 October 2005was the first known tropical cyclone to reach the Iberian Peninsula. Hurricane Leslie (2018) and Subtropical Storm Alpha (2020) are two examples of recent tropical-like cyclones that impacted the Iberian Peninsula.
Leslie made landfall in the central region of Portugal, resulting in extensive material damage in Figueira da Foz, and placed thirteen districts under red warning due to strong winds and waves. It was considered the biggest storm to hit Portugal since 1842. Alpha was classified as a subtropical storm in a very unusual northeastern sector of the Atlantic, very close to Iberia, and made landfall also in coastal areas of central Portugal. Severe weather and waves related to this storm also caused extensive
damage, especially in the south of Portugal, where at least two tornadoes were observed.
Most storms that affect Europe occur between September and November.
Categories
Tropical Disturbance – A tenuous wind circulation. It is a very common occurrence in the tropics, and it can develop into a bigger storm.
Tropical Depression – Wind circulation at speeds that can reach 62 km/h. At this stage of development, the cyclone is already recognized as a possible threat.
Tropical Storm – Notorious wind circulation, with speeds that can vary between 62 km/h and 118 km/h. At this stage of development the cyclone is given a distinctive name (e.g, Emily). The "eye" of the storm may become visible.
Hurricane – Violent wind circulation at speeds above 118 km/h. The "eye" of the storm is very pronounced. This designation varies depending on whether you are in the Atlantic Ocean and in the Eastern Pacific Ocean (hurricane), or in the Western Pacific (typhoon), and may also take on other terminology in other parts of the world.

Action to take
The first measure of protection is not to panic. There are certain measures you can take before a cyclone/hurricane strikes:
Develop an emergency plan, for yourself and your family, considering various situations (at home, on the street, at work, at school) and foreseeing the various possible shelter places;
Get to know the area you live in well particularly areas prone to flooding, landslips etc.
Have a hard copy map of the area in case of internet failures during a storm
Follow the evolution of a cyclone/hurricane through weather reports, usually there is plenty of warning, although they can change course at the last minute;
Liston to radio, television and internet in order to be up-to-date with information; IPMA tracking here https://www.ipma.pt/pt/otempo/prev.ciclones/
If planning a trip outside your region, find out about the weather forecast and take the necessary measures if the weather is threatening;
In case of evacuation:
Leave your home whenever advised to do so by the authorities.
Leave the low-lying areas during the day if possible. Make sure you turn off the water and gas, turn off the electricity and secure the house;
Cover the windows with boards or resistant shutters, and close and cover glass doors in order to avoid glass shattering as much as possible;
Collect all objects that could be blown by the wind from outside your house and secure those that are too large or heavy in a safe place;
Don't stay in mobile (or prefab) homes but make sure you keep them as safe as ispossible;
Make sure your car has enough fuel. Drive cautiously using official evacuation routes or guided by the emergency services;
If you're on a boat, leave it after making sure it's safe.
Do not return home without the competent authorities indicating the end of the danger.
The approach of a cyclone/hurricane:
Follow all recommendations from competent authorities. The severity of the situation can vary considerably, and this will dictate the actions you need to take. Do not spread rumours or exaggerated information about the situation.
If your home is safe and located at altitude, stay at home, unless instructed otherwise. Leave low-altitude areas with a risk of flooding;
Leave mobile (or prefab) homes and head for more substantial shelter;
Place crisscross (X-shaped) strips of masking tape on windows to prevent flying shrapnel, and open a window opposite the wind direction to balance pressures;
Do not open the curtains, they serve as protection against splinters;
Put boards, or strong shutters, on large windows;
Move valuable personal items/documents to higher places in your property or take with you
Store some water for consumption, and for sanitary purposes, in bathtubs, jars, bottles or other deposits;
Set the fridge to the maximum cooling level and open it only when necessary;
Close all gas tanks;
Turn off all expendable devices and keep the radio powered and mobile phones charged, in order to receive information and instructions from the competent authorities;
Collect all objects that could be blown by the wind from outside your house and secure those that are too large or heavy in a safe place;
Move your vehicles from under trees;
Always have waterproof clothing on hand;
Cover all objects that could be damaged in contact with water with waterproof material and unplug electrical equipment;
Make sure your car has enough fuel and that the battery is in good condition.
During the storm:
Stay indoors, on the lower floor and in the interior room, and away from windows;
Close all interior doors and reinforce exterior ones;
If the wind calms down, do not leave the house, it is probably the passage of the "eye" (centre) of the hurricane, strong winds can return at any time;
Constantly monitor the flood level near your home;
In case the wind becomes more violent, place yourself under a sturdy piece of furniture or a mattress.
If you are caught in the street, stay away from trees, posts or walls, and protect your head.
After the storm:
Follow all recommendations from competent authorities. Do not spread rumours or exaggerated information about the situation.
If there are injuries, report them immediately to the emergency services;
Make sure your food is in good condition and don't eat anything raw or of questionable origin;
Only consume drinking water you have stored or boil the water you are going to drink;
Carefully clean up any spills of medical, toxic or flammable substances;
Inspect your home to verify that there is no danger of collapse;
Stay in your home if it has not been damaged;
Keep gas, water and electricity off until you are sure there are no leaks or danger of a short circuit;
Make sure your electrical appliances are dry before turning them on;
Use the phone only to report emergencies;
If you have to go out, avoid touching or stepping on poles or electrical cables;
Collaborate with your neighbours to repair damage;
If necessary, request assistance from the rescue brigades or the nearest authorities.
The 2021-2022 naming season for storms affecting Europe begins on September 1st.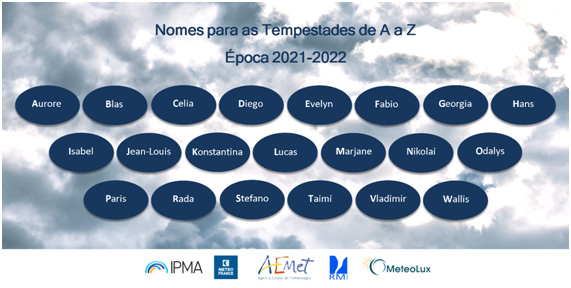 A name is given to all extratropical depressions that give rise to an orange or red level wind warning in the international weather warning system, or that have an impact on the territory that deserves special attention from meteorological surveillance. The first country that issues this notice names the depression/storm and informs the other countries, who must keep the same name.
The purpose of naming storms is to draw the attention of the population and the media to the prevention and safeguarding of lives and property at risk, improve communication between the meteorological services and with the civil protection structure, facilitating the monitoring and studying depressions throughout their journey across Europe.
Attention is drawn to the fact that the depressions that are given a name, as they have very strong wind conditions in a region of Europe, may have other effects, or none at all, on the national territory. On the other hand, with the wind intensity being the main criterion for naming the depression/storm, other low-pressure systems that have not been given a name may have associated precipitation, thunderstorm, snowfall or maritime agitation with an impact such that it gives rise to weather warnings in the national territory. It should also be noted that storms with names given by countries from other groups must retain the original designation in the unlikely event that they also affect our country.