Having taken the steps to safe guard your house using the advice in our Land Cleaning page, next you should make an advanced plan for what you and your family will do when threatened with a rural fire. Remember due limitations of access or weather conditions, the emergency services may not be able to reach you in time so knowing what to do is vitally important – this is known as self protection.
All rural fire action plans will be different, depending on a variety of issues, needs and situations, so what is listed here are suggestions to help create a plan.
Many people plan to leave for a safer place but leave it too late. You need to identify and agree on a trigger with your family that will prompt you to leave early, and have a back-up plan in case you cannot leave in time.
The key question and decision you will have to make when developing your Action Plan is whether to:
LEAVE EARLY OR STAY AND DEFEND YOUR PROPERTY?
To help you make an informed decision, consider…
How well your home is constructed, maintained, prepared and equipped to withstand a rural fire.
Contingency plans in case the fire is more intense than expected or things don't go to plan – rural fires being extremely unpredictable in terms of speed and direction.
The physical, mental and emotional fitness required by you and your family to cope with the impact of a rural fire. Being in a rural fire could be the most traumatic experience of your life.
Who am I putting in danger? Will any children, guests, dependents, elderly or sick household members be put at risk? If so, LEAVE EARLY
Am I able to do everything required to fight a fire without the help of firefighters? If not, LEAVE EARLY
Does everyone in the household agree with the plan to stay or leave?
Am I committed to acquiring the necessary equipment – including an Emergency Kit with protective clothing and fire-fighting equipment? If not, LEAVE EARLY
Know the indicators that will cause you to act before a fire threatens.
These indicators or 'calls to action' again depend on your personal issues, needs and circumstances at the time. However it is very important to predetermine a well thought-through indicator as to when you should leave your home or area in the event of a wildfire. Make this part of your Rural Fire Action Plan, discussed with all members of your household so everyone is clear about it and the possible evacuation will be achieved safely.
For example, if there are elderly or infirm people, anyone with asthma or similar breathing problems, or children in your household, you may want to act at the very earliest time – even a day or more sooner than a potential wildfire event. In which case, you should closely monitor and act on forecasts of the fire risk categories, particularly if they reach Maximum, Very High, or High in your area.
Other people may be slightly less circumspect and may monitor the information sources, the smell of smoke, wind direction and the presence of fire-fighting aircraft in the area, before deciding to stay or go.
Prepare all the people in your household. Make sure everybody, including children if they are old enough, knows the situation and what steps to take.
A designated meeting location outside the fire area. With many households having more than one car, you may evacuate in separate vehicles and could become separated. Family members may also be in different locations when the fire threatens, so a known safe meeting point is very important to determine that everyone has safely evacuated from the affected area.
The communication plan
Designate an out-of-area friend or relative as a point of contact to act as a single source of communication among family members in case of separation. It is easier to call or message one person and let them contact others than to try and call everyone when phone, cell, and internet systems may not function or be limited during a wildfire.
It is a good idea to create, print and give every household member a hard copy of the Communication Plan, plus put one in the car and in the Emergency Kit. Add the emergency services phone numbers, your phone number, address, the Google Maps GPS co-ordinates of your house, and a sketch of the escape route options you may take.
If you urgently need to call the emergency services, which usually can understand English, pronouncing your address in Portuguese may not be recognised right away, particularly if you are upset and not able to think very straight. Also some rural addresses in Portugal are no more than a village name – no house number or street name, so a GPS co-ordinate will pin-point your house. The Portuguese emergency services can access Google Maps so using this GPS format will be best.
The different escape route plans from your home and/or area. Ideally work out at least two routes, preferably more, and practice driving them if they are not familiar to you already. Program these escape routes into your vehicle GPS device so you know where you are going if the visibility is poor.
Planning wildfire escape routes may be very difficult for many households in rural Portugal where there may be only one, or two at best, exit roads from a village or isolated house, both of which may go several kilometres through thick flammable forest. Then even when you reach a main road, you may need to drive further with forest on either side before you hit that welcome town.
So until the day when adequate roadside firebreaks on all forest escape routes, early fire warning systems, public emergency communication networks, orderly evacuation drills, village fire officers, designated village fire shelters, etc, are all in place in your area, planning to leave early may be the best advice, especially as it is extremely dangerous to leave when roads maybe closed and full of smoke.
Have fire-extinguishers and water hoses handy and make sure everyone in the household knows how to use them.
Ensure everyone knows where the gas, electricity and water shut-off controls are and how to use them if necessary.
Lastly follow the instructions of the emergency services if they are their to help you.
Rural Fire Emergency Kits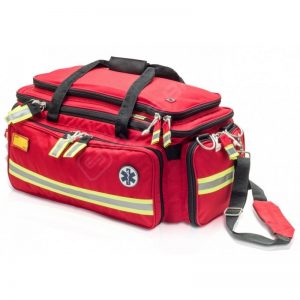 When you need to evacuate from a wildfire there may be no time to lose – this is not the time start thinking about what to pack. You must leave your home as soon as physically possible which is why an easy to carry Emergency Kit is a good thing to have on hand and stored in a convenient place.
If there are several people in your household, they should each have their own Emergency Kit – if only a couple, one shared kit should be enough. Backpacks are ideal for storing the necessary items and are quick to grab. Food and water could go in a cool box light enough to easily lift into your car.
Some Considerations
If you have decided to leave for a safer place, you must do so early…
It is extremely dangerous to leave when roads maybe closed and full of smoke.
Rural fires move quickly so make sure you and your family know where your safer place is, how you will get there and when you will go.
You need to act the moment you know there is danger – do not wait and see.
Driving is very dangerous and stressful during a wildfire with smoke making it hard to see, fallen trees over the road and power lines down.
In the fire area, keep all the windows wound up and don't get out of the car.
The speed of the fire could also trap you and burn your vehicle. Cars do not protect you from radiant heat.
Do you have electricity, to pump water through a hose? And sufficient water.
If you are not able to leave early, staying and sheltering may be your safest option. You will need to actively defend your property regardless of what you planned to do. Preparing your property will give you and your home the best chance of survival.