Helping Ukraine in this time of crisis
How to make safe and effective donations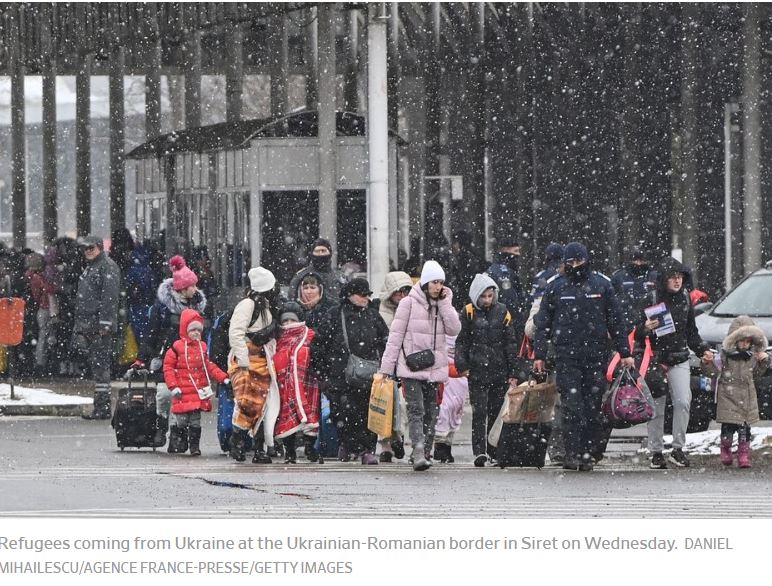 The public, as always in times of crisis, has responded generously to help those in dire need in Ukraine itself or who have escaped to neighbouring countries. It's important that this money goes to those who need it most, those whose lives have been uprooted by fighting.
The devastating situation in Ukraine has captured the hearts of people leading to an outpouring of public generosity in response to fundraising campaigns. But people should think carefully before donating goods or money, so that their donations reach the people who need it most.
FINANCIAL DONATIONS
Non-governmental organizations (NGOs) have been in the countries in conflict for decades and warn that the uncoordinated collection of goods in kind may be held up at the borders with Ukraine, as trucks arrive daily with products from all over the world. To avoid waste – as delivery on the ground requires the reception and management of goods, which is becoming complicated – you can guarantee aid through making financial donations instead, using official organizations.
Portuguese Red Cross
On the organization's official page there is an explanation of the appeal launched by the International Committee of the Red Cross (ICVC) and the means are available for you to make the donation.
Donations can be made by bank transfer, through NIB PT50 0010 0000 3631 9110 0017 4. You can also donate money through MB Way, selecting the option "Ser Solidário" or sent to the number 918 391 794, which belongs to the Emergency of the Portuguese Red Cross.
UNICEF Portugal
In order to help children in Ukraine, UNICEF ​​Portugal created a campaign on its official page with "packs" of help already defined, but you can also select the option "another amount" and donate an amount of your choice. For example, with 15 euros you are guaranteeing food for a full day for seven children. Details and donations here https://donativos.unicef.pt/campanha/emergencia-ucrania/
You can also donate through the Facebook and Instagram of this United Nations NGO.
There are also numerous organizations you can turn to for financial donations, such as Save the Children, Doctors without Borders or Global Giving.
Always look for credible, recognized entities with proven evidence on the ground.
UNHCR
UNHCR urgently need your help to continue providing life-saving protection to families forced to flee their homes.
UNHCR has stepped up our operations and capacity in Ukraine and neighbouring countries. We remain firmly committed to support all affected populations in Ukraine and countries in the region.
With teams across Ukraine and in neighbouring countries hosting refugees from Ukraine, UNHCR is providing protection and humanitarian assistance, including emergency shelters, repairs for homes damaged by shelling, emergency cash assistance, and protection such as psychological support.
Just $13 can provide a plastic tarpaulin to a family in Ukraine, to help them protect their damaged home or shelter from the elements.
How to donate and how the money is spent here
Finally
We encourage people making donations to do so with reputable organisations and people you trust and know, to ensure that your money gets to its intended cause safely. Check how the donation will be used and how it will reach those most in need.
COLLECTION OF GOODS
From north to south of the country, the wave of solidarity for the Ukrainian people has been overwhelming. Even so, as we have already warned, donations must be made in an organized manner. The most important thing is to ensure the safe transport of the donated goods and their reception at the destination.
A tip to ensure effective support is to know how municipalities are organizing collections. The Association of Ukrainians in Portugal is already in contact with many municipal councils, as they have access to structures and resources, and are helping to coordinate spontaneous manifestations of generosity.
If you decide to donate food, opt for products with a long shelf life to ensure it doesn't go to waste. Dairy products may not be the best options to donate, as there is a high probability that they will spoil on the trip if they are not properly packaged. Consult with the organisations who are responsible for the logistics involved and what is actually required.
VOLUNTEERING 
The huge delivery of goods, in the most varied cities of the country, also needs volunteers to divide, organize and pack the different products to be sent to the border countries with Ukraine or to the interior of the country. Once again, the recommendation is that you look for a way to help, with your time and contacts organisations such as Association of Ukrainians in Portugal to see how best you can assist.
MEDICINES
As the Association of Ukrainians in Portugal has stated that medicines in Ukraine are indeed urgent, to treat the many victims that, unfortunately, are multiplying day by day. Still, drug donation cannot be done lightly. The Ministry of Health recommends that official entities be contacted for the delivery of medicines and medical devices, "not only to respond to the needs listed by the receiving country, but also to ensure adequate packaging, without jeopardizing the quality and safety of the articles".
HELP PLATFORMS 
In addition to cash or goods in kind, there are other ways to help.
We Help Ukraine
The platform created by a Portuguese man with the aim of going global – it has already been praised by the President of the Republic – offers different types of support, such as accommodation, transport, documentation or psychological support. Sign up and find out what you can do here .
High Commissioner for Migration (Portugal for Ukraine)
All people interested in helping can also use the e-mail sosucrania@acm.gov.pt, created by the public body that centralizes the process of welcoming and integrating immigrants and refugees in Portugal.  The e-mail serves, for example, to collect offers of employment and volunteering or availability of reception for refugees arriving in Portugal. The platform is entitled PortugalforUkraine and provides information on those who need help as well as wanting to help. Details here
In the Algarve
Associação dos Ucranianos no Algarve.
This association supports Ukrainian's in the Algarve through donations and collection of goods for example. Their Facebook page is updated regularly concerning their actives and what is needed including drop of points for goods etc. More details here.
Real estate consultants
The country's real estate consultants have teamed up to put together housing for Ukrainian families. In one week, the team secured 1750 beds from North to South and has 40 volunteers moderate the offers that arrive. If you have a house that you can make available, contact the team through the Facebook group "Real estate consultants for Ukraine".
The Order of Notaries and the Order of Lawyers are also helping and have the information available on their respective websites.
In order to be able to welcome Ukrainian families, it is also necessary to understand them. If you are a translator or fluent in Portuguese and Ukrainian, it can be a precious help in the near future. Psychological support will also be essential.