Reducing the risks with high wind gusts today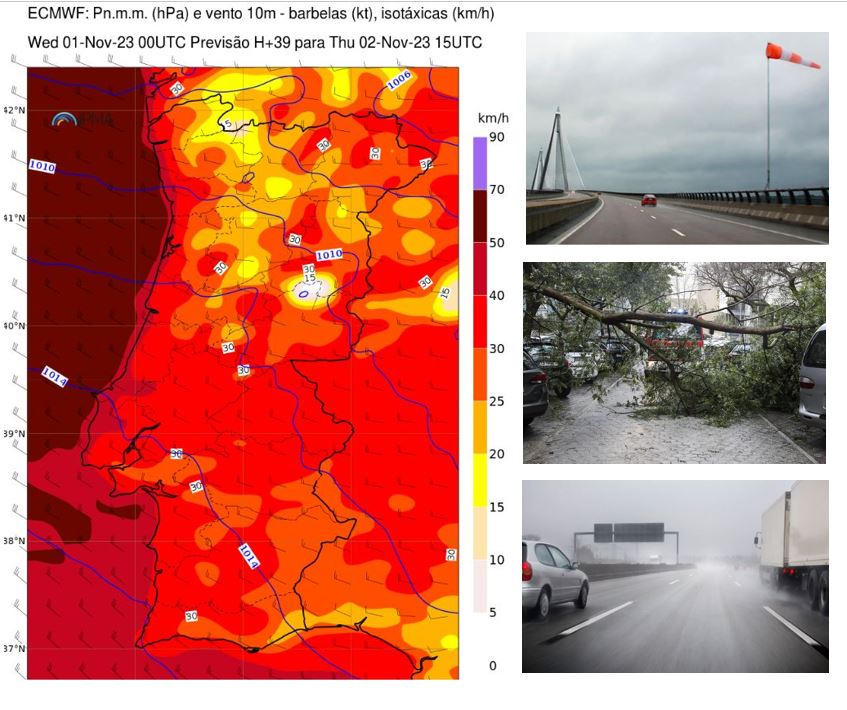 With IPMA and other forecasters predicting maximum wind gusts of 75 km/h to 100 km/h, together with very high coastal waves (with red warnings in some places), we offer the following reminders to reduce the risk of damage and becoming a casualty:
SEA FRONTS – Stay away from sea fronts to avoid being swept away, or hit by debris carried by the coastal winds. Avoid cliff edges.
ON THE ROADS: Take care if driving high sided vehicles and overtaking such vehicles especially in cross wind situations – bridges can be affected by crossed winds.  25 de Abril Bridge Lisbon has speed limitations in place due to wind
Take particular care in towing caravans – maybe better to wait until winds subside
Leave extra space when overtaking vehicles, especially cyclists.
Keep a safe distance from cars in adjacent lanes as strong gusts could push a car outside its lane of travel.
CYCLISTS – Avoid areas which have a high exposure to strong wind gusts.
TREES – Avoid parking your vehicle if possible under trees which appear in poor condition. Soil may have been saturated by recent rains
AROUND THE HOUSE – Move or secure terrace furniture and outdoor items that could be damaged by the winds
PEDESTRIANS – Be particular alert for items that may have become dislodged in the winds and flying debris
SELFIES: Do not place yourself at risk taking selfies of weather conditions – many people have been injured or worse in these situations
Maps: IPMA Sustained wind speed for today – the highest we have seen this year