Overall
Latest updates 7th August 2021 (see below)
DGS assisted by the National Vaccination Covid-19 Task Force is responsible for the Vaccination Program which is mainly  implemented through Vaccination centres throughout the Country. The DGS website accessed through a page here provides information and ways in which those eligible can obtain a vaccine, including:
Scheduling a vaccination
Those without a utente number
FAQs
Obtaining Vaccination Certificates 
List of Vaccination Centres
Complaints and suggestions
Our page here supplements this in the English language to assist those concerned
Attending Vaccination Centres 
If you are attending a vaccination centre the Government is now operating a virtual traffic light system, where the waiting times are shown on the DGS website. This is a an indicator only and this can change whilst you are waiting at the centre itself. Visit the page here to check the situation for your centre.
Astra Zeneca – Second dose) Update 5th July 2021
The Government has already accelerated the process of anticipating taking the second dose of the vaccine from AstraZeneca (Vaxzevria).
Therefore, users who have been vaccinated with the first dose of AstraZeneca vaccine should take the second dose as follows:
Users who have taken the 1st dose of AstraZeneca vaccine by April 25th should take the 2nd dose in the week of June 28th to July 4th.
Users who took the 1st dose of AstraZeneca vaccine from April 26th to May 16th should take the 2nd dose in the week of July 5th to 11th.
Users who took the 1st dose of AstraZeneca vaccine after May 17th to 23rd should take the 2nd dose from July 12th.
Patients must report to the Covid-19 Vaccination Center (CVC) where they took the first dose. Check your CVC's opening hours at: https://covid19.min-saude.pt/vacinacao-covid/
Casa Aberta (Open House) scheme (Updated  3rd August 2021)
The "Open House" initiative allows users aged 30 years or over to be vaccinated, with the first dose and without prior scheduling, and for this purpose, they must go to the Vaccination Center of the place where they are registered at the Health Centre, usually corresponding to your area/zone of residence.
There is now a new ticket scheme in operation. To take advantage of the "Open House" digital password system, it is necessary to obtain a password on the day you want to be vaccinated.  The link is here
The location of all the Vaccination Centres in the Mainland who run the Casa Aberta (Open House) scheme can be down loaded here. 
Self Scheduling (Updated 7th August 2021) 
Self scheduling for those 18 years of age is now available again having been suspended a week ago to enable 16 and 17 year olds to be vaccinated.
The DGS site is now providing this facility for those aged 18 and above in addition to previous older age groups commencing with those 65 and over on 23rd April 2021
To schedule your test click on the link here and then enter you SNS utente number (9 digits) full name and date of birth.
https://covid19.min-saude.pt/pedido-de-agendamento/
– On next page enter your nationality, Fiscal number (9 digit) District, Municipality centre and chose vaccination centre (there may only be one available).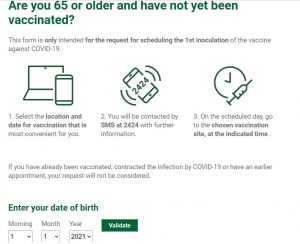 Next page – Select vaccination date and you will receive the date of the earliest date available – if not suitable you can select later dates.
You than click on generate a receipt of appointment in PDF format.
The PDF you receive states:
"We confirm that you have made an APPOINTMENT REQUEST for the date xxxx/2021 at the vaccination site Vaccination Center xxxx
This document is JUST A PROOF OF ORDER, it is not the definitive schedule.
Follow the directions:
Later you will be contacted by SMS at 2424 with the schedule.
Respond to the SMS by following the instructions.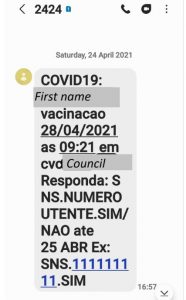 As the picture on the right shows  you have an option SIM/NAO (YES/NO)
You then reply as shown in the example:  SNS.Utente number.SIM so for example SNS.111111111.SIM  if you wish to confirm yes or NAO
DO NOT enter any other words such as "I would like to confirm etc" otherwise it will show an error. Ensure to check capitals and correct number when entering.
After doing this and sending you should receive immediately confirmation with the exact location and address of the vaccination appointment– process completed.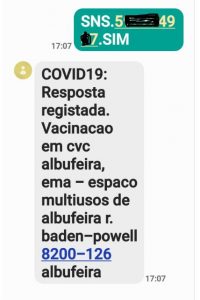 Ensure you turn up on time. You may have to wait a while so be prepared for this.
This is a very simple process.
If you answer "YES", your appointment is confirmed. If you do not answer the SMS, if you reply after the deadline or if your answer is "NO" to the schedule, your request is void. For make a new appointment, you must wait up to 72h and perform, again, the same ordering process scheduling.
The DAY BEFORE the vaccination day, you will receive a new SMS to remember the call
On the scheduled day, go to the chosen vaccination site, at the indicated time.
If you have already been vaccinated, contracted the infection by COVID-19 or already have a previous appointment, your appointment request will not will be considered at this stage of vaccination. Wait for new indications".
Action to take if you have made an application for a vaccination but have not received confirmation by SMS with date and time.
This is the situation concerning a number of people.
Action you should take is as follows
Call the SNS number 808 24 24 24
Dial 9 for English Listen for option 5 (or enter 5 immediately) If you speak Portuguese do not use option 9 await option 5
You are given some information including "if you have not received an SMS dial 3", then "for vaccination issues" dial 1
Next
Have with you your Utente number. You'll be asked how many times you have already click on the option previously that you have not received the text message. You'll be asked your full name (so be prepared to spell it exactly as it is on the Utente Number official document) and date of birth and phone number.
If your date has passed they will check for future dates.
If your date was not yet passed they will try to "rebook" it for that same date.
So in reality it's making another booking and summiting for you and you should receive a text message within the next 72h.
IF NO TEXT message after 72h, then send an email detailing all that you have done since the moment that you have submitted and received the pdf with the confirmation of that submission to atendimento@sns24.gov.pt
Attach the pdf with the confirmation https://www.sns24.gov.pt/contacte-nos/
If this fails then for those 45 years and over attend the Casa Aberta (Open House) Vaccination Centre in your area with your paperwork. Check the timing of the schedules through the DGS link here. 
Overview of vaccination phases
The entire Portuguese population can be vaccinated, as long as it is eligible according to the clinical indications approved for each vaccine in the European Union. However, priority groups were defined, as they are more vulnerable to COVID-19:
According to the vaccination plan, which may change due to the evolution of scientific knowledge and the indications and contraindications that may be approved by the European Medicines Agency, the vaccination strategy will be as follows: