RURAL FIRES – FWI MAP FOR TODAY SUNDAY 15TH AUGUST 2021 (LEFT)
FWI – VERY HIGH LEVEL FOR ABOUT 30% OF MAINLAND AND 25% AT EXTREME
A MARKED INCREASE SHOWN IN COMPARISON TO YESTERDAYS FWI MAP (RIGHT)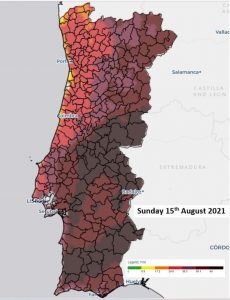 Determining the risk of the spreading and behaviour of rural fires – the Rural Fire Index (FWI)
Today's FWI map shows a VERY HIGH level for 30% of the mainland in the range 50.1 to 64 (brown) and around 25%, the centre and parts of Lower Alentejo at EXTREME 64 and over (dark brown)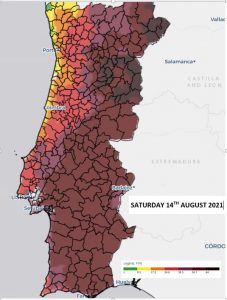 The FWI Rural Fire Index determines how quickly a fire will start and spread and comprises the following six indices that quantify the effects of fuel moisture and wind on fire behaviour.
The increase in each of these components corresponds to an increased fire hazard. Given the windy conditions today we highlight the following two:
FFMC (Fine Fuel Moisture Index) – represents the moisture content of dead thin, fast-drying fuels, providing a good indicator of their degree of flammability. ISI (Initial Propagation Index) – results from the combination of the FFMC and the intensity of the wind, representing the initial rate of fire propagation, without including the influence of varying amounts of fuel. Others include the DMC (Humus Index); DC (Drought Index) and BUI (Available Fuel Index).
A "Very Extreme" Fire Danger Class was introduced in June 2021 to provide discrimination about the level of fire danger in extensive areas that were initially classified at "Extreme" Fire Danger in the Mediterranean region during the summer months. The "Very Extreme" class include areas with FWI values above 70. Some areas will reach these levels
BE AWARE AND NOTE
Many of the major fires have started in similar situations.
It is important to be aware of this as it helps determine the risk to yourself and property should a fire break out in your area.
SELF-PROTECTION DURING RURAL FIRES HERE ACTION DURING FIRES