TODAY'S RURAL FIRE RISK – SUNDAY 15TH AUGUST 2021
PLEASE READ IN CONJUNCTION WITH SITUATION OF ALERT PREVENTION MEASURES BELOW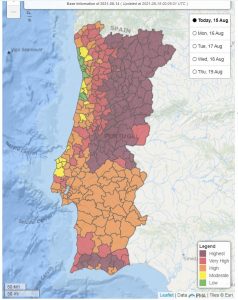 As forecast today, there is an increase in fire risk compared to yesterday, with around 45% of the mainland at MAXIMUM, (nearly 100 municipalities).
The Rural Fire Index (FWI) (determining how quickly fire start and spread), shows around 30% of the mainland at VERY HIGH risk level 50.1 to 64, and around 25% at EXTREME 64 and above, in the centre and Lower Aklentejo Four districts are currently at ORANGE level high temperature warning and Faro District (Algarve) from 1100 hrs today)
CENTRE
The centre region is at higher risk than yesterday, being MAXIMUM HIGH risk. Forecast minimum relative humidity (RH) levels are from an extremely low 6% to 20% higher in the west, (similar to yesterday). Maximum forecast air temperatures are similar to yesterday, ranging from 35C to 41C. FWI EXTREME. Winds moderate from the W/NW/N quadrants.
THE NORTH EAST
At higher risk than yesterday, with municipalities at MAXIMUM risk. Minimum relative humidity forecast from an extremely low 6% to around 16%, similar to yesterday, with forecast maximum air temperatures, ranging 34C to 37C – similar. Light to moderate winds from the W/NW quadrants.
ALGARVE
The Algarve shows a similar risk compared to yesterday with seven municipalities at MAXIMUM risk and five at VERY HIGH. Minimum relative humidity levels are much lower than yesterday from 7% to 16% but higher in west coast. Maximum air temperatures, ranging from 39C to 42C, higher. (Alcoutim 44C). Slightly cooler in west coast municipalities. Winds mainly moderate from N/NW quadrants
MONCHIQUE: FWI EXTREME; MAXIMUM fire risk, moderate north westerly winds, Min humidity 7%. Max temp 39C. TAKE EXTRA CARE.
WINDS (GENERALLY)
Wind in general light (up to 20 km/h) from the northern quadrant, temporarily moderate (up to 30 km/h) from the northwest during the afternoon, being from the southwest on the south coast of the Algarve, blowing sometimes strong (up to 40 km/h) on the west coast and in the highlands.
RURAL FIRES YESTERDAY
There was around nearly 80 rural fires yesterday less than the previous day, with most in the centre and north being in the Porto, Lisboa, Viseu and Setubal.
FOLLOW THE RULES IN THE CHART AND PREVENT FIRES Situation of Alert measures here
https://www.safecommunitiesportugal.com/rural-fires…/…
IN THE EVENT OF A FIRE FIRST ACTION IS TO CALL 112 IMMEDIATELY AS EVERY SECOND COUNTS
SHARE THIS INFORMATION AND BY DOING SO HELP PREVENT FIRES
Monitor fires here: