Russian attack on Ukraine
This major incident page is created to record in summarized format the Russian attack on Ukraine, which began on 24th February following the announcement of a Military Operation  earlier in the day. The page highlights those issues and actions relevant to, and undertaken by Portugal in response. The information comes from multiple sources both in Portugal, overseas including directly from in Ukraine itself.
Information: City of iev website
LATEST UPDATE MONDAY 28TH FEBRUARY 2022 0800 HRS
UNITED NATIONS
The UN Security Council has voted to hold a rare session of the UN General Assembly over Russia's invasion of Ukraine as the international community seeks to isolate Moscow.
The vote on Sunday afternoon was a procedural one, with 11 out of 15 members of the UN Security Council approving the measure — India, China and the United Arab Emirates abstaining, and Russia opposing the move. Russia's veto power at the UN Security Council did not apply since it was a procedural measure, paving the way for it to be adopted.
The UN General Assembly, which comprises all members of the UN, will hold the emergency session on Monday — marking only the 11th time since the body's creation after the Second World War that it convenes for such a meeting.
MILITARY OPERATIONS
Ukraine reports to have expelled Russian troops from its second city Kharkiv in the east of the country after Russian armoured vehicles got through its defences. The country says it is holding the line around capital Kyiv. Ukrainian military said Monday that Russian troops had slowed down "the pace of the offensive".
Reports this morning of a long Russian military column on its way to Kyiv at the same time that a missile hit a residential building in the city of Chernihiv,
"All civilians in the city can leave the Ukrainian capital freely and safely along the Kiev-Vassylkiv highway," southwest of the capital, Russian Defense Ministry spokesman Igor Konashenkov told television on the fifth day of the country's invasion. by Moscow.
The statement came as fighting broke out in various parts of the Ukrainian capital, with Ukrainian authorities saying they were fighting small groups of Russian forces in various sectors of the capital.
Russian agency Interfax, quoted by Reuters, said a source from the Russian Defence Ministry confirmed that Russian troops had controlled the cities of Berdyansk and Enerhodar, in the Zaporizhzhya region of south eastern Ukraine, as well as the area around the nuclear power plant at Zaporizhzhya.
The Russian advance on Ukraine's capital has been hampered by logistical failures and "firm Ukrainian resistance", the UK Defence Ministry said.
"Most of Putin's ground forces remain more than 30 kilometres north of Kiev, their advance being held back by Ukrainian forces defending Hostomel airfield, a key Russian objective since the first day of the conflict", the statement reads.
Russia used the Iskander missile system to attack Zhytomyr airport, about 170 kilometres from the Ukrainian capital Kiev. The information is advanced by The Kyiv Independent, which also adds that the air strikes were launched from Belarus. Earlier, Belarus said it would not allow air strikes to be launched from its territory.
Russia's invasion force has lost momentum and is having logistical and supply problems after facing stiff Ukrainian resistance, the White House claims. However, Russia military has claimed air superiority in Ukraine and alleged that Ukraine is using civilians as human "shield".
The world's largest aircraft, the Antonov AN-225, has been destroyed during the Russian invasion of Ukraine, according to Ukrainian officials, generating alarm and sadness among the aviation world in which it occupies almost cult status. The enormous aircraft, named "Mriya," or "dream" in Ukrainian, was parked at an airfield near Kyiv when it was attacked by "Russian occupants," There has been no independent confirmation of the aircraft's destruction. A tweet from the Antonov Company said it could not verify the "technical condition" of the aircraft until it had been inspected by experts.
CASUALTIES
Ukraine's Interior Ministry said Sunday that 352 Ukrainian civilians had been killed during the Russian invasion, including 14 children. The Ukrainian authorities also reported that at least 1,684 were injured, including 116 children.
The Russian army on Sunday admitted that there were "killed and injured" soldiers among its troops in Ukraine on the fourth day of its invasion of the country, without specifying how many Russians had died there.
NUCLEAR ISSUES
Belarus passed a constitutional revision in a referendum, ending its nuclear neutrality status for the first time since the end of the Cold War, allowing Russia to mobilize and install a nuclear arsenal on its ally. According to Reuters, citing national agencies, the referendum was approved with 65.2% of the vote, a rate considered relatively low given the suspicions surrounding the last presidential elections.
British Defence Minister Ben Wallace told Times Radio that he does not expect Vladimir Putin to use nuclear weapons in his pursuit of Ukraine. This comes after Putin ordered his military to put Russia's nuclear deterrence forces on high alert, in the latest signal from the Russian leader that he is prepared to resort to the most extreme level of brinkmanship is his effort to achieve victory.
UKRAINE MILITARY
Ukraine's top general on Sunday claimed that the country's active army personnel had increased by more than a third in two days. "We are facing one of the largest armies in the world. But we are stronger!" said Valery Zaluzhny, commander of Ukraine's armed forces, as he posted videos showing Ukrainian drones bombarding Russian convoys.
Half of the new conscripts were volunteers alongside the reservists that had been called up, he said, adding 100,000 to its 261,000-strong army personnel.
GOOGLE MAPS
Google announced that it has temporarily disabled some tools in its Maps navigation app on the territory of Ukraine, including the ability to receive updated information on the state of traffic. As CNN reports, the Mountain View technology company clarifies that these measures were taken to ensure the safety of communities living in Ukraine. Google indicates that the decision was made after consulting local authorities and other sources.
SOCIAL MEDIA
Chinese social networks Weibo, equivalent to Twitter, and Douyin, version of the video application Tiktok, deleted 1,400 and 6,400 posts with "offensive content" about the conflict in Ukraine, respectively, the China Daily reported today.
RUSSIAN CURRENCY
The ruble has today fallen by almost 30% against the US dollar, Asian stocks have fallen and the price of the benchmark oil in the United States, West Texas Intermediate (WTI), has increased by more than 5%.
INSIDE RUSSIA
The Russian state prosecutor's office said on Sunday that anyone providing financial or other assistance to a foreign state or international organisation aimed against Russia's security could be convicted of treason, facing a maximum sentence of 20 years.
HUMANITARIAN
Russia's war on Ukraine has displaced "over seven million people", the EU commissioner for crisis management said Sunday.
The US and France have advised their citizens to make plans to leave Russia following the cancellation of flights into and out of the country.
The US embassy in Moscow told American citizens in Russia to consider leaving the country "immediately".
Boris Johnson has announced an extra £40mn of aid to provide vital medical supplies and other humanitarian assistance to Ukraine — taking the total amount pledged this year to £140m.  Johnson also confirmed that any person settled in the UK will be able to bring their Ukrainian immediate family members to join them in the country, to the benefit of "many thousands of people".
BANKING
Russia's central bank is to start buying gold after a two year hiatus as the country's domestic producers face problems accessing international bullion markets. In a statement, the Bank of Russia said it would "resume the purchase of gold on the domestic precious metals market".
The move comes after the central bank and several of the country's biggest lenders were hit by sanctions in response to Russia's invasion of Ukraine.
EU foreign affairs ministers have approved a ban on transactions with the Russian central bank as the bloc pushes through one of the most severe responses yet to the invasion of Ukraine. The EU restrictions on Russia's $630bn stockpile of foreign reserves have been co-ordinated with the US, where the Biden administration has been working on a similar move, alongside the UK and Canada.
The Russian central bank has increased interest rates to 20% from 9.5% after the rouble plunged up to 40% on Monday in the wake of western sanctions.
NEGOTIATIONS
Vatican Secretary of State Pietro Parolin, second in the hierarchy of the Holy See – after Pope Francis – told Italian newspapers, quoted by Reuters, that the Vatican is ready to "facilitate dialogue" between Russia and Ukraine. Parolin said that, despite the Russian attacks, he is convinced that "there is always room for negotiations".
RUSSIAN DELEGATE AT CLIMATE CHANGE CONFERENCE APOLOGISES FOR THE INVASION
The head of Russia's delegation at a major UN climate summit on Sunday apologised for Vladimir Putin's invasion of Ukraine, saying he could not find "any justification" for it. Speaking at the closing session of talks attended by representatives of 195 nations, Oleg Anisimov said he apologised "on behalf of all Russians who were not able to prevent this conflict. All of those who know what is happening fail to find any justification for this attack against Ukraine," according to two people familiar with his words.
LATEST UPDATE SUNDAY 27TH FEBRUARY 2022
1800 HRS
MILITARY OPERATIONS
Russian President Vladimir Putin announced on Sunday that he would put the Russian army's "deterrent force" on alert, which could include a nuclear component. I order the Defence Minister and the Chief of Staff to place the Russian army's deterrent forces on special combat alert," Putin said at a meeting with the military chiefs, according to AFP.
The US has responded to President Putin's order putting Russia's nuclear forces on a "special" state of alert. The move makes it easier to launch weapons – but our security correspondent Gordon Corera said it was a way for Russia to send a warning to Nato, rather than signalling an intent to use them.
President Vladimir Putin's decision to place his nuclear forces on alert amounts to "irresponsible" behaviour, NATO charged Sunday. "This is dangerous rhetoric. This is a behaviour which is irresponsible," the alliance's secretary-general Jens Stoltenberg told CNN.
The mayor of the Ukrainian city of Kharkiv claimed local forces were back in full control after repelling a Russian incursion and marked the first time its forces had entered the city since the invasion Putin launched four days ago.
Russia attacked Ukrainian airfields and refineries this morning. Russian troops entered Kharkiv, hours later Ukrainian forces announced that they had regained control of Ukraine's second largest city. Kherson and Berdiansk are surrounded.
A senior Ukrainian government official said that Russian president Vladimir Putin's war against Ukraine had been "a total failure", and that Kyiv's military and governments were holding control in regions across the country in the face of Russian air assaults and invading troops.
"We are already winning. The military operation planned by Putin has already fallen down. It was a failure," Olga Stefanishyna, deputy prime minister, told the Financial Times.
MILITARY AID
Eastern EU countries dedicated more than €23mn worth of new military aid to Ukraine on Sunday, with a larger Czech package and smaller shipments from Romania and Slovakia.
The Czech government backed an additional package worth €16mn, Slovakia approved a €4.4mn shipment while Romania assembled provisions worth €3mn.
Each country has already sent millions of euros worth of military aid to Ukraine.
INTERNATIONAL RESPONSE
The U.N. nuclear watchdog's 35-nation Board of Governors will hold an emergency meeting on Wednesday about Ukraine, where war is raging in a country with four operational nuclear power plants and various waste facilities including Chernobyl.
A military aircraft carrying Norwegian troop reinforcements landed in Lithuania on Sunday, part of a wider NATO build-up in the Baltic region following Russia's invasion of Ukraine.
NATO DEFENCE
British military jets have significantly stepped up their patrols since Russian forces invaded Ukraine, as part of the NATO mission to defend Europe – although the exercise is not related to President Putin's recent nuclear deterrent announcement.
The RAF Typhoons are effectively policing the skies in Poland and Romania to deter any further Russian aggression, demonstrating they have a strong presence here.
HOSPITALS
Ukrainian oxygen supplies are running low because of Russia's invasion, with some hospitals having depleted them entirely, the World Health Organization has warned, saying this puts thousands of lives at risk.
In a statement on Sunday, Tedros Adhanom Ghebreyesus, the health body's director-general, and Henri Kluge, its regional director for Europe, called for safe passage of critical medical supplies to those in need. They added they were working with partners to establish transit corridors through Poland.
"The oxygen supply situation is nearing a very dangerous point in Ukraine. Trucks are unable to transport oxygen supplies from plants to hospitals across the country, including the capital Kyiv," the health body said. "The majority of hospitals could exhaust their oxygen reserves within the next 24 hours. Some have already run out. This puts thousands of lives at risk."
SANCTIONS
PRAGUE, February 27. /TASS/. The Czech Republic will urge all other EU member-countries to stop issuing Schengen visas to Russians in retaliation for the military operation in Ukraine, First Deputy Prime Minister, Interior Minister Vit Rakusan, said on television on Sunday.
President of the European Commission, Ursula von der Leyen that banned from the European space will be the Kremlin's "media machine", like the state-owned Russia Today and Sputnik, which "are no longer able to spread their lies to justify Putin's war". "We are developing tools to banish their toxic and harmful disinformation in Europe."
SKIES CLOSED TO RUSSIAN AIRCRAFT
It is one of the sanctions imposed against Russia: its civil or military aircraft are banned from the airspace of 15 European countries and Canada. Portugal and Spain were the two that reacted to the early afternoon of this Sunday.
After a tweet from the Italian transport minister, it was the turn of a tweet from the Ministry of Foreign Affairs to announce the closing of the skies to all Russian aviation aviation.
For now, Russian aircraft are banned in Italy, France, Belgium, Germany, Finland, Slovenia, Lithuania, Bulgaria, Latvia, Estonia, the Czech Republic, Austria, Poland, Spain and Portugal. The same decision has also been taken by Canada.
NEGOTIATIONS
Ukrainian President Volodymyr Zelensky's office said he had reached an agreement during a phone call with Alexander Lukashenko, the self-declared leader of Belarus that negotiators from Kyiv and Moscow would meet on the Ukrainian-Belarus border. Zelensky will not go, the deputy minister of Foreign Affairs will be sent, says SIC commentator José Milhazes
The development marks the first possible sign of de-escalation in Russia's full-blown invasion of Ukraine that is estimated to have claimed thousands of lives.
The Kremlin on Sunday said it has warned Ukraine that Russia's military operation would be suspended during any potential talks, the Interfax news agency reported.
he head of Ukrainian diplomacy, Dmytro Kouleba, assured on Sunday that the country will not "capitulate" to Moscow, denouncing Putin's warning to Russian nuclear deterrent forces as an attempt at "pressure".
"We are not going to surrender, we are not going to capitulate, we are not going to give up a single centimetre of our territory", said the Minister of Foreign Affairs during a press conference held by digital means, a few hours before the meeting between the parties that is scheduled for Monday morning at the Belarus border.
HUMANITARIAN AID
European Union expects to receive millions of Ukrainians. The EU executive said this Sunday that Europe is going through the biggest humanitarian crisis in many years with this Russian invasion of Ukraine. In this way, the number of Ukrainians displaced due to this conflict could rise to seven million
The United States has approved 54 million dollars (48.1 million euros) of additional humanitarian aid to Ukraine, the head of US diplomacy, Antony Blinken, announced today. "It is with the well-being of ordinary Ukrainians in mind that we announce the provision of nearly $54 million in humanitarian aid to those affected by the new Russian invasion," Blinken said in a statement.
Pope Francis today appealed to the international community to "urgently" open humanitarian corridors to welcome refugees fleeing Ukraine and seeking refuge from the Russian invasion, considering that "those who make war forget humanity".
Kyiv is setting up a coordinating humanitarian headquarters to provide food and basic necessities to those in need.
"Many citizens may soon face shortages of food and basic necessities. We are already working to help people and prevent this. Today, the Kyiv Humanitarian Headquarters has been set up in the city to contact those who need help and those who can provide it" said Valentyn Mondryivskyi, Deputy Head of the Kyiv City State Administration.
An electronic platform will be launched tomorrow, on the basis of which businesses will be able to provide information about their available resources, and Kyiv residents will be able to announce their needs. All this information will be systematized for effective communication and distribution of essentials.
The Portuguese authorities are "doing everything" to ensure that Ukrainian citizens who want to take refuge in Portugal can do so "in security conditions, with all possible integration", the Secretary of State for Internal Administration said today.
Several dozen Portuguese people participate in Krakow, Poland, in the effort to help refugees from Ukraine, and at least one of them hosted a Ukrainian family, Nuno Gonçalves, who emigrated to the country for eight years, revealed today to Lusa.
EU member states are considering the activation of the bloc's temporary protection directive that would give "immediate" safeguards for Ukrainians fleeing war, according to interior ministers gathering in Brussels on Sunday.
ECONOMIC DEVELOPMENTS
Japan has joined western nations in removing some of Russia's banks from the Swift global payment system, following a request from the US and European countries.
Ukraine's government raises crypto worth $8 million in crowdfunding appeal
Ukraine's government has raised almost $8 million in cryptocurrencies after posting appeals on social media for donations of bitcoin and other digital tokens, according to blockchain analysis company Elliptic.
The Italian foreign ministry suspended all institutional relations between Rome and Moscow including the Italo-Russian business committee, according to Italian officials and business executives.
Ireland would support Ukraine's request to be considered for EU membership, said Thomas Byrne, European affairs minister, becoming the latest member state to voice its backing.
DEMONSTRATIONS
More than 100,000 people flocked to central Berlin to protest against the invasion of Ukraine, nearly five times the number of participants expected.
DEMONSTRATIONS IN RUSSIA
In Russia itself, anti-war protests spread to more than 50 cities across the country, with the largest demonstration taking place in Moscow, prompting Russian authorities to intervene. International agencies report thousands of detained protesters.
Russian police on Sunday detained more than 900 people protesting against Ukraine's invasion in 44 Russian cities, according to data released by an independent monitoring group.
The group "OVD-Info" reveals that, in total, more than 4,000 anti-war protesters have been arrested in Russia since the conflict began four days ago.
LATEST UPDATE SUNDAY 27TH FEBRUARY 2022
0800 HRS
MILITARY OPERATIONS
Despite warnings last night that Kyiv would come under attack from Russian missiles, an aerial blitz does not seem to have happened. The Ukrainian capital is cold and quiet this morning (0745hrs). A strict curfew remains in place and the only people visible on the city's streets are police, the military and armed volunteers.
Explosions were however heard near the city and an oil depot in Vasylkiv to the south of the capital was hit and set ablaze, according to the local mayor. The fire prompted fears of toxic fumes and residents were warned to close their windows and stay indoors
The southern city of Nova Kakhovka has been taken over by Russian troops, the city's mayor said this morning
Meanwhile, Russian vehicles have entered Ukraine's second-largest city, Kharkiv, say Ukrainian officials. A loud explosion was also heard earlier in the city, where a gas pipeline is said to have been hit. The city, which has a population of around 1.5m, is around 30km from the border and 80km from the Russian city of Belgorod. Residential areas in Kharkiv were also attacked, according to emergency services. A woman was reportedly killed and dozens were evacuated from a nine-story building
At least six civilian deaths were also reported in the town of Okhtyrka, north-eastern Ukraine, according to the region's mayor.
Ukrainian forces have downed a cruise missile that was launched by a Russian Tu-22 strategic bomber from the territory of Belarus, Valery Zaluzhny, the chief commander of the armed forces, said on Sunday.
Russia's forces from Crimea have been making large advances on cities in Ukraine's south. In Mykolaiv, a city located between Odesa and Kherson, the mayor Alexander Senkevich has announced this morning that the city remains under Ukraine's control. However, there has been fighting overnight. One video being shared on Ukraine Telegram channels showed damage to buildings and streets in Mykolaiv's central streets.
Since the beginning of Russia's attack on Ukraine, 14 military and terrorist fighters and 6 civilians have been killed in the capital. 71 people were injured, including 25 civilians. The mayor of Kyiv Vitaly Klitschko declared it in the video address.
"The situation in the capital is difficult and tense. The enemy did not break into the city. But sabotage groups are operating in Kyiv. The military and law enforcement detect and neutralize saboteurs. There were clashes and skirmishes today. 
The Russian army has been ordered to extend its offensive in Ukraine "in all directions" , the Ukrainian Defence Ministry has revealed. The decision comes after the country refused to negotiate with Russia in Belarus.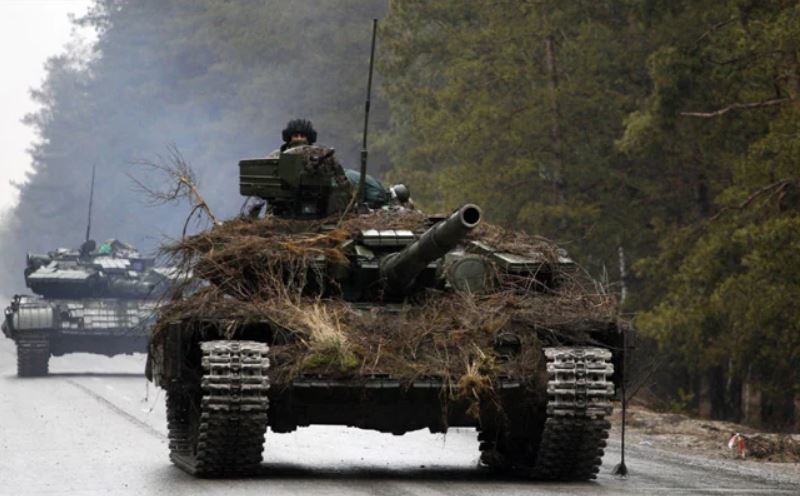 Russian troops are approaching Ukraine's nuclear power plant in Zaporizhzhia and have aimed their rockets at the site, Vadym Denysenko, an adviser to Ukraine's interior minister, said on Saturday. The Zaporizhzhia plant, the largest in Europe, is located in south-east Ukraine. Russia has already captured the defunct Chernobyl plant, some 100 km north of Ukraine's capital Kyiv.
Russian troops have destroyed a concrete dam in Ukraine that stops water flowing into Crimea, Reuters reports.
CASUALTIES
At least 64 civilians have been killed and more than 160,000 are on the move after Russian troops entered Ukraine this week, a United Nations relief agency said.
The prime minister of Greece revealed this Saturday, through social media, that 10 civilians with "Greek nationality" were killed near the city of Mariupol, on the southeast coast of Ukraine. Reuters adds that six others are injured, citing the Greek government.
Russian artillery hit a children's hospital in Kyiv and caused the death of a child, leaving two others injured, as well as two adults, according to local media TSN. It should be noted that the Ukrainian capital was the target of bombing this Saturday night.
Some 3,500 Russian soldiers were killed or wounded in Russia's invasion of Ukraine, adviser to Russian President Oleksiy Arestovych has revealed. "We are hitting the enemy around Kyiv. The enemy is not moving", he said, quoted by the international press.
A journalist and photojournalist for the Danish tabloid Ekstra-Bladet were shot while reporting from a town in eastern Ukraine , the newspaper confirms, adding that the professionals are out of danger, but one of them had to undergo surgery.
HUMANITARIAN
More than 150,000 people have fled Ukraine to Poland, Hungary, Moldova and Romania due to Russian invasion, said UN High Commissioner for Refugees Filippo Grandi, an updated balance sheet. Poland has set up a series of reception centres along its board to receive and assist those fleeing.
Huge numbers of people are fleeing Ukraine, with a 27-hour long queue of women and children on the Moldovan border.
The war in Ukraine threatens the lives and well-being of 7.5 million children in the country, warned the United Nations Children's Fund (UNICEF), calling for schools and hospitals to be spared the attacks.
MILITARY SUPPORT
The Netherlands has promised it will send additional military support to Ukraine. The shipment includes 200 Stinger missiles and 50 Panzerfaust-3 anti-tank weapons with 400 missiles.
Germany to send anti-tank weapons and missiles – Germany will send 1,000 anti-tank weapons and 500 stinger missiles to Ukraine, the German chancellor said on Saturday. Olaf Scholz said the Russian invasion marked a "turning point", and added: "It is our duty to do our best to help Ukraine defend against the invading army of Putin."
PORTUGAL
The Foreigners and Borders Service (SEF) suspended the "consideration of any application dossier for residence permits for investment" for Russian citizens, the Minister of Foreign Affairs, Augusto Santos Silva, announced this Saturday.
SANCTIONS
Ursula von der Leyen this evening updated the volume of sanctions applied to Russia in the wake of the war started against Ukraine. In addition to guaranteeing that a "certain number of banks" will be excluded from the SWIFT bank payment system, she said that the assets of the Russian central bank will be frozen. The President of the European Commission announced that a set of new measures will be proposed to European leaders "to strengthen our response to Russia's invasion of Ukraine and undermine Putin's ability to finance the war machine".
Google has said it is pausing monetisation of Russian state-funded media and barring the outlets from running ads across its services, according to a statement seen by Reuters.
INTERNATIONAL TRAVEL
Eight countries, including Czech Republic, Poland and the UK, have now introduced full or partial bans on Russian flights. Poland banned Russian airlines from its airspace on Friday, as did the UK. Baltic countries Estonia, Latvia and Lithuania have each announced partial bans, as has Slovenia. Romania's civil aviation authority has announced that it has closed its airspace to all Russian companies.
Finland will close its airspace to Russian planes, joining other European countries in ramping up sanctions against Moscow over its invasion of Ukraine, the government announced early Sunday. Finland, which shares a 1,300-kilometre (800-mile) border with Russia, "is prepared to close its airspace to Russian air traffic," Transport Minister Timo Harakka wrote in an overnight tweet.
Transport Minister Volker Wissing is in favour of closing German airspace to Russian planes" and "has already taken steps to have everything ready for that," the source told Agence France-Presse.
Meanwhile, Europe's largest airline, Lufthansa, will suspend all its flights to and from Russia for seven days.
SHIPPING
Portugal on Saturday recommended commanders and operators of Portuguese merchant ships to abandon shipping areas close to the Russian-Ukrainian conflict, such as the Black and Azov seas and the Kerch Strait. The recommendation comes from DGRM – Directorate-General for Natural Resources, Security and Maritime Services, which, in a press release, warns of "the unforeseeable consequences that may arise" for Portuguese merchant ships that stay in these areas.
Ukraine is increasing pressure on Turkey to close the Bosphorus and Dardanelles straits to Russian warships, which would block some ships advancing towards Ukraine. Turkey has yet to decide.
YOUTUBE
YouTube has suspended multiple Russian channels, including the state-funded media outlet RT, from generating revenue on the video service, Reuters reported. YouTube said in a statement that it was "pausing a number of channels' ability to monetize on YouTube, including several Russian channels affiliated with recent sanctions". It said the move was prompted by "extraordinary circumstances".
SPORT
Roman Abramovich, the oligarch Russian owner of Chelsea football club, said he will hand over stewardship of the club. That is why I am today giving trustees of Chelsea's charitable foundation the stewardship and care of Chelsea FC.
PROTESTS IN RUSSIA
A total of 2,692 people have been detained in anti-war protests in Russia in the last three days, according to the protest monitoring site OVD-Info. At least 1,370 of them were detained in protests in Moscow, CNN reported.
LATEST UPDATE 1630 HRS
The Russian army was ordered on Saturday to expand the offensive against Ukraine, despite growing international protest to the contrary, alleging that Kyiv had rejected negotiations.
"Today, all units received the order to extend the offensive in all directions in accordance with the attack plan," the Russian Defence Ministry said in a statement.
UKRAINE PRIME MINISTER
President Volodymyr Zelenskyy said on Saturday Ukraine is "successfully repelling" Russia's attacks and that Kyiv and its outskirts are under the control of the Ukrainian military.
In a televised address, Zelenskyy said Russia had hoped to install a puppet government in Kyiv but that "we broke their plans." "The fighting goes on in many cities of our state, but we know we are defending our country, our land, and our childrens' future," he said.
Zelenskyy said the Russian forces are being "severely repulsed" in every city under attack and that in fighting around Kyiv Russia "didn't gain any advantage," despite attacking with missiles, fighter jets, drones, artillery, armoured vehicles, saboteurs and paratroopers.
So far Ukrainian troops do appear to have managed to hold the Russian forces at bay in intense fighting near Kyiv and in cities in the north, east and south of the country. Russian forces have advanced close to several cities but except for the southern city of Melitopol do not yet appear to have advanced into them.
Zelensky also said that the international "anti-war coalition is working," saying Ukraine now has the support of most EU countries to cut Russia off from the SWIFT banking system. He then said he hopes Germany and Hungary will agree, suggesting for now they still have not.
OPERATIONS
Officials said Russia's goal is to try to impose "demilitarization" on Ukraine by blockading the capital and forcing Ukraine's political leadership to "change its political course on Russian terms."
The statement said seven Russian battalion tactical groups, totalling 4,000 to 7,000 troops, have tried to push into Kyiv from the northwest and north, but have been forced to regroup.
A main force of around 8,000 to 14,000 Russian troops is trying to also push down from the northeast of the city, but have so far been stopped by Ukraine's forces, officials said. In total, Russia sent in 17 battalion tactical groups from the northeast, totalling up to 17,000 troops, Ukraine said.
The statement said Russia also tried to land paratroopers at an airbase in Vassylkiv, a town about 20 miles south of Kyiv, but that the airborne units had been killed. Ukraine has said it shot down two IL-76 transport planes with paratroopers on-board last night.
RUSSIAN GOVERNMENT WEBSITE
The official website of the Kremlin, the office of Russian President Vladimir Putin, kremlin.ru , was down on Saturday, following reports of cyberattacks on various other Russian government and state media websites.
SOCIAL MEDIA
Various social media platforms have imposed sanctions on Russia over its invasion of Ukraine, including Facebook, Twitter and YouTube. According to foreign media reports, Facebook has stopped monetizing Russian media and stopped advertising, while also partially banning the content of state broadcasters. Russian broadcasters, government agencies, personalities will not be able to share content related to violence and war on Facebook….
DAY 3 UPDATE – 1300 Hrs Saturday 26th February 2022 
MILITARY OPERATIONS
During the night, Russian armed forces used high-precision weapons against Ukraine's military infrastructure, which they destroyed with land and naval cruise missiles," Russian Defence Ministry spokesman Igor Konashenkov said today, detailing that the target was 821 military installations.
The same spokesman reported the shooting down of seven Ukrainian planes, seven helicopters and nine drones, as well as the annihilation of eight combat boats, 87 tanks and armoured vehicles, 28 multiple launchers and 118 military vehicles and equipment
Russian agency Interfax reports this morning that the city of Melitopol, in the Zaporizhzhya region, has been taken over by the Russian army. The information is released by the Russian Defence Ministry, which also reports on the use of air-to-land and sea-to-land missiles at night.
In fact, during the dawn it was reported by independent sources that several Ukrainian cities had been hit by missiles, some originating from ships in the Black Sea. . Russian cruise missiles were launched from the Black Sea against Sumy, Poltava and Mariupol, and the city of Melitopol was reportedly taken by Russia.
In recent hours, Kyiv has been hit by several explosions
A Kyiv apartment building has been damaged by what the Ukrainian government says were Russian missiles.
"During the night, the armed forces of the Russian Federation launched a strike with long-range precision weapons using air and sea-launched cruise missiles against the military infrastructure of Ukraine," defence ministry spokesman Igor Konashenkov said in televised remarks.
CASUALTIES
At least 198 Ukrainians have died since the Russian invasion of Ukraine. Cited by the Interfax agency, the ministry said that 1,115 people were injured, including 33 children, but did not clarify whether they were just civilians.
CURFEWS
For more effective defence of the capital and the safety of its residents from today, February 26, 2022, a curfew will run from 17:00 to 08:00. This curfew is introduced until the morning of February 28," said the mayor. Warning! All civilians who will be on the street during the curfew will be considered members of the enemy's sabotage and reconnaissance groups.
COMMUNICATION INTERNET
The report said it had confirmed "significant disruptions" in Kharkiv on Thursday and further disruptions have been tracked across Ukraine, reaching Kyiv on Saturday morning with a "major disruption" registered to GigaTrans, Ukraine's "backbone internet provider… which supplies connectivity to several other networks".
"While connectivity does remain available through other routes, the incident is likely to have a significant impact on infrastructure, limiting citizens' ability to communicate," it said.
"Work is ongoing to assess the incidents and their contexts. Telecoms disruptions in Ukraine have so far been attributed to power outages, cyberattacks, sabotage, and kinetic impacts."
HUMANITARIAN AND SUPPORT
More than 120,000 people have fled Ukraine since Russia began its attack on the neighbouring country on Thursday, according to data from the United Nations refugee agency (UNHCR).
Sky News advances this morning that 28 countries, including several EU countries, the UK and the US; agreed to send aid to Ukraine immediately. This aid will include ammunition, anti-tank and anti-aircraft weapons, as well as medical supplies.
President Joe Biden instructed the US State Department to release $350 million in military aid to Ukraine on Friday as it struggles to repulse a Russian invasion.
In a memorandum to Secretary of State Antony Blinken, President Biden directed that $350 million allocated through the Foreign Assistance Act be designated for Ukraine's defence.
INTERNATIONAL TRAVEL
Delta Airlines announced this Saturday morning that it has severed all ties it had with the Russian airline Aeroflot, because of the situation in Ukraine.
The American airline had partnership agreements with the Russian airline, namely for the exchange of passengers.
NUCULAR TREATIES
The vice president of Russia's Security Council warned today that the country could choose to withdraw from the nuclear deal and freeze Western assets in Russia, considering the sanctions to be proof of the "political impotence" of the West.
Cited by the Associated Press, Dmitry Medvedev, who is vice-president of the Council chaired by Vladimir Putin, wrote on his page on the Russian social network VKontakte that the sanctions imposed by the United States, the European Union and other allies could give Moscow a pretext for a complete review of ties with the West. Specifically, he pointed out that Russia can opt out of the New START nuclear weapons control program, which limits the arsenal of the two former Cold War powers. In addition, Medveded also wrote that "there is no particular need to maintain diplomatic relations" with some Western countries and added: "We can look at each other through binoculars and gun sights."
RUSSIAN MEDIA
The Russian media regulator has ordered the country's media to remove from all content the words "invasion", "offensive" or "declaration of war" by Russia on Ukraine. Russian media are also prohibited from referring to civilians killed by the army sent by the Moscow regime to Ukraine.
"We emphasize that only official Russian sources have current and reliable information," said regulator Roskomnadzor in a statement, while the Moscow regime calls for its intervention in Ukraine to be described as a "special military operation" aimed at "maintaining of peace".
DAY 2 UPDATE  – 2230 hrs Friday 25th February 2022 
CASUALTIES
Russian forces have lost about 2,800 servicemen and 80 tanks during their assault on Ukraine, Deputy Defence Minister Hanna Malyar said on Friday.
Russia did not release casualty figures. The U.N. said 25 civilians had been killed and 102 wounded, figures that were likely to be a "significant under-estimate". None of the tolls could be independently verified.
She added on her Facebook page that the Russian troops also lost about 516 armoured combat vehicles, 10 aircraft and seven helicopters as of 1500 local time (13 GMT).
OPERATIONS – ATTACK AND DEFENCE
Russian missiles pounded Kyiv on Friday, families cowered in shelters and authorities told residents to prepare Molotov cocktails to defend Ukraine's capital from an assault that the mayor said had already begun with saboteurs in the city.
Ukrainian forces fought off Russian troops in the capital Kyiv on Friday on the second day of a conflict that has claimed dozens of lives, as the EU approved sanctions targeting President Vladimir Putin. Small arms fire and explosions were heard in the city's northern district of Obolonsky as what appeared to be an advance party of Russia's invasion force left a trail of destruction.
On Friday evening a huge fireball lit up skies over Eastern Ukraine after Russian shelling targeted a fuel depot near the city of Kharkiv.
The facility was targeted in an effort to cut off fuel supplies to Ukraine forces battling to stop Russian advancement as the battle for Ukraine's capital Kyiv continues.
At 2300hrs Russia's Defence Ministry said Russian troops had entered the Ukrainian city of Melitopol without resistance, according to Russian news agency Tass, quoted by the BBC, which it added was unable to confirm the allegation. Ukrainian President Volodymyr Zelensky previously said there was heavy fighting in the city. Melitopol, a city of about 150,000, is in southeastern Ukraine, close to the Crimea and the Sea of ​​Azov.
Earlier Russia says it has captured aerodrome northwest of Kyiv  Russia's defence ministry said on Friday its forces had captured the strategic Hostomel aerodrome outside the Ukrainian capital Kyiv and landed paratroopers in the area.
Britain's defence ministry said in an intelligence update that Russian armoured forces had opened a new route of advance towards the capital after failing to take Chernihiv, and most troops remained more than 50 km from Kyiv's city centre.
Ninety-two members of the Chernobyl power plant operational personnel are being held hostage by Russian forces, Ukrainian ambassador to the US Oksana Markarova said during a press conference in Washington, DC, on Friday. Because the power plant personnel are being held hostage, they are not able to work in shifts and follow the strict regulations that the power plant requires, she said
Russian military has blocked Kyiv from west – TASS cites Russia's defence ministry – Russian military will not strike residential areas of Kyiv – TASS cites Russia's defence ministry
Kyiv mayor says the city has entered into a defensive phase – Earlier, Missiles pounded Kyiv and families cowered in bomb shelters as Russian forces pressed their advance and authorities said they were girding for an assault aimed at overthrowing the government.
Ukrainian President Volodymyr Zelensky on Friday called on Europeans with "combat experience" to fight for Ukraine as invading Russian forces threatened Kyiv. "If you have combat experience in Europe and do not want to look at the indecision of politicians, you can come to our country and join us in defending Europe, where it is very necessary now," Zelensky said in a statement put out by his press office.
UK says NATO forces must not play active role in Ukraine – British and NATO troops must not play an active role in the Ukraine conflict after Russia's invasion, armed forces minister James Heappey said on Friday, saying the risks of miscalculation in such a scenario could become existential.
NATO
For the first time, the NATO Response Force has been activated as a defensive measure in response to Russians ongoing invasion of Ukraine of Ukraine.
NATO Supreme Allied Commander Gen. Tod Wolters activated the multinational force consisting of land, air, sea and special operations forces from the allies that can deploy quickly in support of the NATO alliance.
NATO announced in the afternoon that it would support Ukrainian troops with anti-aircraft material and warned that Russia does not intend to stop its expansion into Ukraine.
PORTUGAL
The prime minister announced this afternoon that Portugal would anticipate the deployment of an infantry company to Romania , which borders Ukraine. The decision comes after the virtual NATO meeting, and António Costa stated that the alliance agreed on the need to mobilize more forces to NATO's borders with Russia and Ukraine, with a view to "strengthening deterrence actions, taking into account this clear violation of international law".
SUPPORT AND HUMANITARIAN
More than 50,000 people have fled Ukraine since the start of the Russian invasion, the United Nations refugee chief said Friday. "More than 50,000 Ukrainian refugees have fled their country in less than 48 hours – a majority to Poland and Moldova," Filippo Grandi said in a tweet, cautioning that "many more are moving towards its borders."
U.S. providing $600 million for Ukraine defensive weapons -House Speaker Pelosi U.S. House of Representatives Speaker Nancy Pelosi said lawmakers are ensuring that $600 million for "lethal defence weapons" previously approved for Ukraine is being delivered to battle Russia's unfolding attack.
The United Nations humanitarian presence will remain in Ukraine and will work to expand and scale up their operations, the UN Office for the Coordination of Humanitarian Affairs (OCHA)'s Martin Griffiths said Friday.
EU will accept all people fleeing the violence in Ukraine, Germany says – The European Union will accept all people fleeing the violence caused by Russia's invasion of Ukraine, German Foreign Minister Annalena Baerbock said on Friday. "We need to do everything to accept without delay the people who are now fleeing the bombs, the tanks," she told reporters as she arrived for a meeting with her EU counterparts in Brussels.
Czech Republic to send fuel, blood to Ukraine –  Czech Republic will send fuel and blood to Ukraine and release 300 million crowns ($13.65 million) for aid to refugees, Prime Minister Petr Fiala said on Friday.
SANCTIONS
EU agrees to freeze Putin, Lavrov assets over Ukraine – European Union agrees to freeze European assets linked to Russian President Vladimir Putin and Foreign Minister Lavrov over Ukraine invasion, reports AFP
The West has agreed an onslaught of sanctions over Russia's invasion of Ukraine, but resistance from key EU nations fearful of severing their power sources has led to them holding off on banishing Moscow from the SWIFT banking transfer system.
Sanctioned Russian banks face international payment problems – Clients of some Russian banks under western sanctions will no longer be able to use their cards abroad or with mobile payment systems from Apple and Google, the central bank said on Friday, as it stepped up support for banks.
The Russian central bank increased the daily limit for its foreign exchange swap operations in euros to 3.5 billion euros from 2 billion euros, it said on Friday, further increasing liquidity supply after some of its top banks were hit by U.S. sanctions.
INTERNATIONAL TRAVEL
Ukraine's neighbour Moldova has closed its airspace, as has part of Belarus. Meanwhile the US government's Federal Aviation Administration has told US pilots to avoid "the entire country of Ukraine, the entire country of Belarus and a western portion of Russia."
The UK has banned civilian Russian aircraft from its airspace. In response, Russia has banned British aircraft from its airspace.
Poland and the Czech Republic announced plans on Friday to close their airspace to Russian airlines as well.
Countries including the United States and the United Kingdom have advised their citizens to leave Ukraine, and both the US and the UK have advised against all travel to Ukraine.
The European Union Aviation Safety Agency, known as EASA, has warned of a high risk to civilian aircraft flying near the Ukrainian border.
Russian airspace ban: Virgin Atlantic's Delhi-London flights to be of slightly longer duration -Virgin Atlantic's Delhi-London flights will have a slightly longer flying time by 15-60 minutes as the Russian government has banned all British planes from crossing its airspace. In response to the Russian military offensive in Ukraine, the Boris Johnson government had earlier this week
Russian Railways limits cargo deliveries to Latvia until Tuesday State-owned Russian Railways has limited cargo deliveries to Latvia until March 1, it said in a statement on Friday, adding that Latvia was not accepting all cargoes and it wanted to avoid back-ups.
INTERNATIONAL MEMBERSHIP
In a statement on Friday, the Organization for Economic Cooperation and Development (OECD) officially ended Russia's accession process to become a member. The process had already been postponed in 2014, following Russia's annexation of Crimea.
Council of Europe suspends Russia over Ukraine invasion: Russia has been suspended from the Council of Europe following its invasion of Ukraine, Italian Foreign Minister Luigi Di Maio said on Friday. The Council of Europe was formed after World War Two to protect human rights and the rule of law across the continent. It is separate from the European Union.
FINANCIAL
Excluding Russia from SWIFT must be on the table – Netherlands Excluding Russia from the global SWIFT system of interbank payments should be an option given the scale of Moscow's invasion of Ukraine, Dutch Foreign Affairs Minister Wopke Hoekstra said in Friday.
European bank shares begin rebound as slew of sanctions readied – European bank shares started to rebound on Friday after steep falls a day earlier, as bankers grapple with the potential impact of a slew of sanctions following Russia's invasion of Ukraine.
INTERNATIONAL TRADE
Russia-Ukraine war set to worsen global chip shortage Both Russia and Ukraine are vital exporters of raw materials used in the manufacturing of chipsets and semiconductors, like palladium, which is used in memory and sensor chips, and neon gas, which is used for etching circuit designs.
EUROPEAN UNION
The EU on Friday said Russian President Vladimir Putin was looking to destroy Ukraine and that his actions were comparable to those of the Nazis in World War II. "He is talking about de-nazifying Ukraine, but he behaves like Nazis. So this is all in his head," EU spokesman Peter Stano told reporters in Brussels when asked about claims by Putin that a "genocide" was taking place against Russian speakers in Ukraine.
INTERNATIONAL SPORTS AND EVENTS
F1 won't race in Russia this year after Ukraine invasion – Formula One has pulled its race from Russia following the country's invasion of Ukraine, saying Friday it would be "impossible" to hold the race in Sochi under the current circumstances. The Russian Grand Prix had been scheduled for Sept. 25.
International sports federations should either move or cancel sports events currently planned in Russia or Belarus, the International Olympic Committee (IOC) said on Friday, a day after Russia invaded Ukraine.
Russia banned from Eurovision song contest amid Ukraine crisis – The European Broadcasting Union (EBU) said on Friday that no Russian act will participate in this year's Eurovision Song Contest as this would "bring the competition into disrepute".
THE CHURCH
Pope went to Russian embassy to express concern over war to Moscow envoy
Pope Francis went to the Russian embassy to the Holy See on Friday and relayed his concern over Russia's invasion of Ukraine to Moscow's ambassador, the Vatican said. It was believed to be the first time a pope has gone to an embassy during a conflict. Usually ambassadors are convoked by the Secretariat of State. Vatican spokesman Matteo Bruni said the pope spent about 30 minutes at the embassy. Bruni would not comment on a report that the pope, 85, had offered the Vatican's mediation.
PUTIN'S DEMANDS
Russian President Vladimir Putin urged Ukraine's military to overthrow its political leaders and negotiate peace on Friday, as authorities in Kyiv called on citizens to help defend the capital from a Russian assault its mayor said had already begun.
Putin says Ukrainian government is "a bunch of drug addicts and neo-Nazis" and that ceasefire negotiations would be easier with the army in power
NEGOTIATIONS
The international press said that the Ukrainian president's spokesman revealed that Zelensky and Putin are discussing a place and time for negotiations. According to the same source, Ukraine is ready to talk about peace and a possible ceasefire. Russia has said it will only speak when all Ukrainian armed forces surrender.
"Ukraine was and remains ready to talk about a ceasefire and peace. This is our position," Sergii Nykyforov, a spokesman for Ukrainian President Zelensky, wrote on his Facebook account.
"The sooner negotiations start, the more possibilities there will be to restore normal life", stresses the spokesperson.
Earlier post 0600 hrs
Ukraine leader says at least 137 killed in full-scale Russian military attack as Western powers announce a series of sanctions against Moscow.
Images of damaged buildings, residential towers and even classrooms are beginning to filter in after Ukrainian president Volodymyr Zelenskiy confirmed multiple reports of Russian missile strikes across Ukraine in a national address early on Friday morning.
Zelenskiy said the strikes began at 4am local time on Friday, adding that Russian troops were stopped by Ukrainian forces from advancing in most directions.
Kyiv is facing threats both from its eastern edges, from the west more generally since the capture of the Chernobyl nuclear plant site, and now, according to Ukrainian officials, from the threat of infiltration into the city.
While it's unclear whether the Russian military intends to capture the Ukrainian capital or force it's capitulation, a combination of missile attacks, a rapid airborne advance using helicopters to the outskirts, and the continuing advance by Russian armour is putting Kyiv in an increasingly difficult position.
The latest update from Ukraine's General Staff claims that the key Hostomel air base, just outside Kyiv is controlled by Kyiv forces again, however heavy fighting is going on north west of the capital.
Russia has launched a full-scale military attack on Ukraine that opened with air and missile attacks on Ukrainian military facilities before troops and tanks rolled across the borders from the north, east and south.. An estimated 100,000 people fled as explosions and gunfire rocked major cities. US and Ukrainian officials say Russia aims to capture Kyiv and topple the government.
The Ukrainian military has fought back on multiple fronts. President Volodymyr Zelenskyy said in a video address early on Friday that 137 people, both servicemen and civilians, have been killed and hundreds more wounded.
A senior United States defence official said Russia may be intent on seizing Kyiv, the capital, and other key cities and ultimately installing a more friendly government.
As Ukrainian forces fought back and civilians piled into trains and cars to flee, the US and European leaders rushed to punish Russia with strong financial sanctions. NATO moved to strengthen its eastern flank.
Two loud blasts were heard in central Kyiv early Friday, news agency AFP reported early Friday morning. Ukraine's army said that Russia fired on civilian areas of Kyiv but that Ukraine's air defence systems repelled "two deadly gifts", according to a post on its verified Facebook page.
Horrific Russian rocket strikes on Kyiv," Ukraine Foreign Minister Dmytro Kuleba posted on Twitter after explosions were heard in the capital before dawn. "Last time our capital experienced anything like this was in 1941 when it was attacked by Nazi Germany. Ukraine defeated that evil and will defeat this one."
Russia's Defence Ministry said its first day of the Ukraine invasion had achieved all its goals and that it had destroyed 83 land-based Ukrainian targets.
The invasion of Ukraine has invited severe economic sanctions on Russia. In a speech from the White House, US President Joe Biden said four more banks — including the two biggest, Sberbank & VTB — would be hit with sanctions by Western sanctions. In addition, export controls slapped on sensitive components will "cut off more than half of Russia's high-tech imports." The penalties will be severe, and will have lasting impact on Russia's economy, Mr Biden said.
DAY ONE
UKRAINE CRISIS – WHAT IS KNOWN SO FAR TODAY:
As at 15.00 hrs: 
203 attacks, 74 infrastructure destroyed, Russia controls airport near Kiev. Hospital hit with four deaths recorded 
THE ATTACK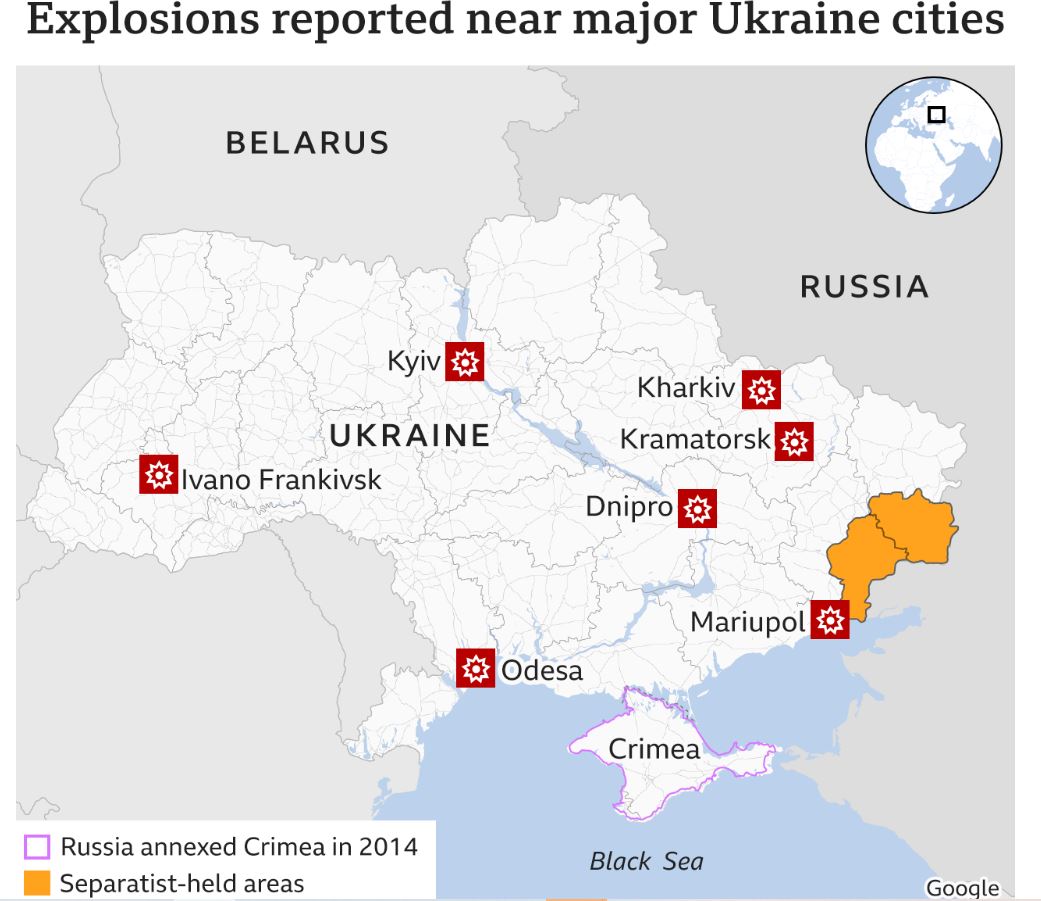 Russian President Vladimir Putin announced this Thursday at dawn a military operation in Ukraine to defend separatists in the east of the country. He says his objective is not "the occupation", but the "demilitarization" of the country.
Strong explosions were recorded in at least five cities in Ukraine, including the capital Kiev.
UN, NATO, USA, UK and European Union condemn Russian decision to invade Ukraine.
General Igor Konashenkov, a spokesman for the Russian Defence Ministry, told Russian television that the rebels had advanced three kms in the Donetsk region and one and a half kilometres in the Lugansk region.
An attack had also been launched from Crimea, which Russia annexed from Crimea in 2014.
Russian military forces entered the Kyiv region from Belarus. Russian military units entered the Kiev region from Belarus to carry out a Grad missile strike against military targets, Ukrainian military officials said in a statement.
To the north, Russian troops crossed the border into Kharkiv, Ukraine's second-largest city, as well as Sumy and Chernigov. Land movements quickly extended to Lutsk. In the south, the attacks were carried out from Crimea, affecting strategic cities for port trade: Odessa and Mariupol.
An Agence France-Presse (AFP) journalist stationed in Ukrainian territory reported the presence of several unidentified helicopters flying in groups at low altitude in the suburbs of Kiev.
Around 1300 hrs a Russian missile hit a Ukrainian airport, in the west of the country. A military airfield in Chugev was attacked
At 1400 HRS Ukraine's Defence Ministry announced that 50 Russian elements were killed and seven planes were shot down. "Fifty Russian occupiers were killed, seven Russian planes were shot down, and four tanks were destroyed," the ministry said in a statement.It also said Ukraine downed two Russian helicopters over the Gostomel town, near the capital Kyiv. Separately, Ukraine took captive two Russian soldiers, according to information obtained from the Ukrainian Embassy in Ankara.
1500 hrs:

Russia says it destroyed 74 infrastructure, including 11 airfields

"As a result of the attacks by the Russian Armed Forces, 74 ground installations of Ukrainian military infrastructure were deactivated. This includes 11 Air Force airfields," General Igor Konashenkov, the Russian Defence Minister, said on television.

Emergencies personnel work at the crash site of a Ukrainian military plane south of Kyiv on February 24, 2022. – A Ukrainian military plane with 14 people aboard crashed south of Kyiv on Thursday, the emergencies service said. The service said it was "still determining how many people died." The incident occurred about 20 kilometres (12 miles) south of Kyiv, amid reports of several locations around the city coming under attack. Russian President launched a full-scale invasion of Ukraine on February 24, 2022, killing dozens and forcing hundreds to flee for their lives in the pro-Western neighbour. (Photo by Handout)

According to the general, three control centers and a naval base were also destroyed. Russian forces claim to have shot down a helicopter and four Bayraktar TB2 drones.

The spokesman also admitted the loss of a fighter due to a "pilot error"

The Ukrainian island Fidosini, also known as Snake Island, was attacked by Russian ships, reports the Russian Ministry of Internal Affairs. At the moment, there are two ships of the Russian fleet – the "Moscow" and the "Vasily Bykov" in the Black Sea near the island. The Ukrainian Armed Forces maintain defense positions. This island is in the Black Sea, close to Romania and Moldova, and has a border post.
Emergency services said a Ukrainian military plane with 14 onboard crashed south of the capital. Ukraine's President Volodymyr Zelensky has declared martial law and broken diplomatic ties with Russia.
The Chernobyl nuclear power plant has already been captured by Russian forces, said an adviser to Ukraine's president, quoted by Reuters. Volodymyr Zelensky had already announced that the Russian military was trying to take over the plant, which in fact ended up happening.
A curfew has been declared in capital city Kyiv from 2200 hrs tonight until 0700 hrs tomorrow., the mayor said.
The President of Ukraine, Volodymyr Zelensky, decreed this Thursday the general mobilization of all people of age to serve in the army after the invasion of Ukraine by Russia."The bill for the approval of the presidential decree on general mobilization has been submitted to the Verkhovna Rada of Ukraine (Parliament)" for its adoption, the Ukrainian legislature reported via the social network Telegram
CASUALTIES
18 people died in a Russian air strike on a military base located near the port city of Odessa. "18 people died – eight men and 10 women. We are still going through the rubble", revealed the local administration, quoted by AFP.
Oleksiy Arestovych, adviser to Ukrainian President Volodymyr Zelensky states that more than 40 Ukrainian servicemen were killed and several dozen were wounded and there is talk of the death of a dozen civilians" in various parts of the country.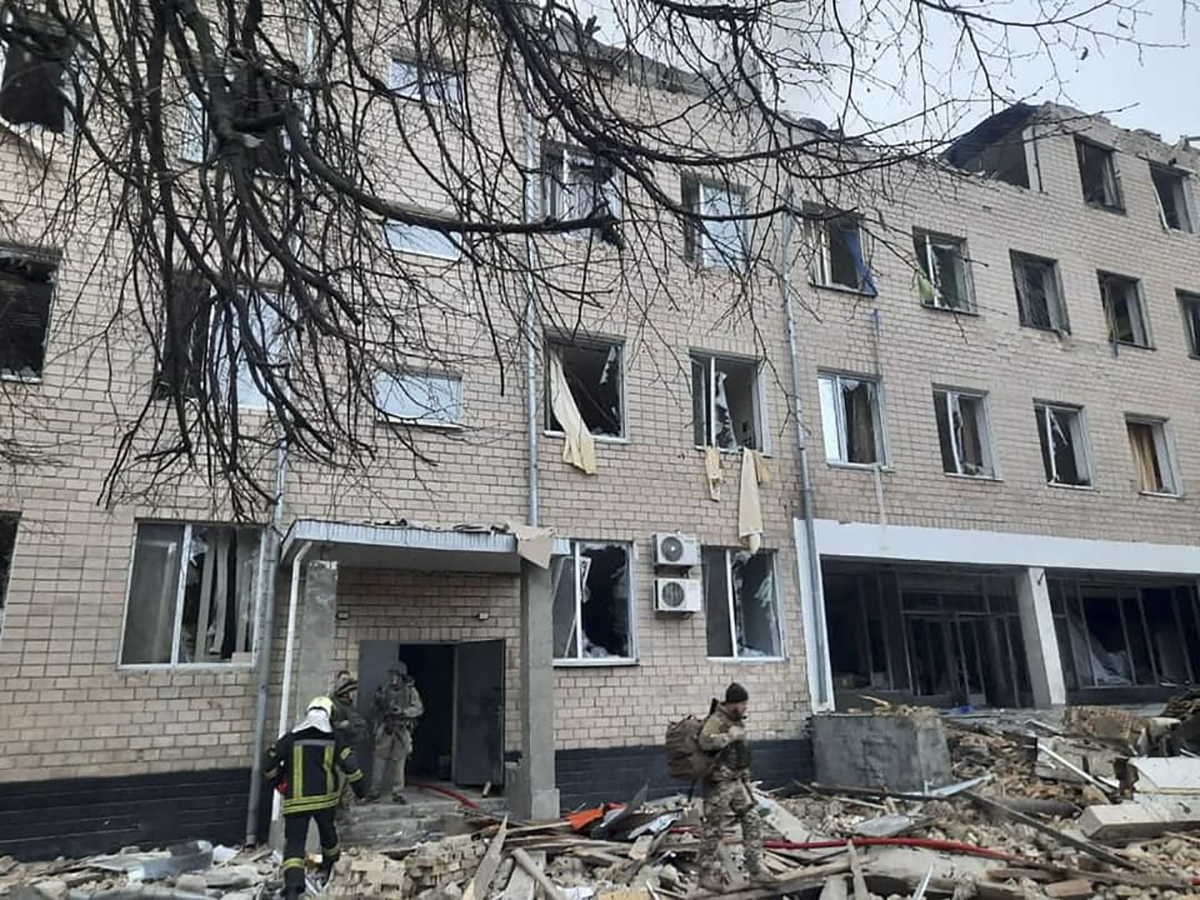 PORTUGAL IMPACT
The Portuguese Embassy in Ukraine advises Portuguese citizens to leave the country across land borders with the European Union, preferably towards Poland and Romania.
Marcelo Rebelo de Sousa summoned the Superior Council for National Defence to a meeting in Belém at 12:00.
António Costa said this Thursday that NATO will not intervene in Ukraine, all that can be done "are deterrence missions with countries bordering Ukraine". Portugal joins the NATO rapid reaction forces this year.
Costa to Ukranians "They will have our full solidarity. You have been very welcome to Portugal. And your family, friends and acquaintances who want to seek safety and destiny to continue their lives are also very welcome.
He also guarantees that several "instructions were transmitted to embassies in Ukraine and neighbouring countries, to expedite visas for those who want to come to Portugal".
FINANCIAL
Several hundred Ukrainian citizens crossed the border that separates their country from Romania, seeking refuge in the homes of friends and family in the face of the Russian military operation, the Romanian authorities said.
Stock markets – At around 10.30 am, the EuroStoxx 600 dropped 3.30% to 438.89 points, Brent oil was quoted at 105.35 dollars a barrel, 8.8% more than on Wednesday, and the euro fell to $1.1172 (versus $1.1312 on Wednesday).

The Russian stock market ended with a 33.28% drop in the MOEX index, after Russian troops launched a military offensive against Ukraine and Western sanctions announced against Moscow.
INTERNATIONAL RESPONSE
The European Parliament will hold an extraordinary plenary session in Brussels on Tuesday for an "unprecedented European response" to the Russian invasion of Ukraine.
NATO Secretary General Jens Stoltenberg announced this Thursday that a summit of the organization's leaders would be held, by videoconference, for Friday, for the Allies to discuss the next steps to face the "brutal act of war" by Russia.
The president of Ukraine announced, in a speech to the nation, the severing of diplomatic relations with Moscow, following the invasion of the country by the Russian armed forces.
Lithuanian President Gitanas Nauseda today signed a decree declaring a state of emergency in that Baltic country in response to Russia's military attack on Ukraine.
INTERNATIONAL TRAVEL
The Moldovan authorities announced that they had closed their airspace and that they also asked Parliament to introduce a state of emergency in the country,
Ryanair has cancelled all flights to and from Ukraine for "at least 14 days" after the start of the Russian offensive in that country and the closure of its airspace.
The Ministry of Defense of Belarus, an ally of Russia, announced the closure of Belarusian airspace in the area above the Ukrainian border, citing the need to "ensure the safe use of airspace" in the country.
IN RUSSIA
The number of protesters arrested in anti-war protests in Russia, which are taking place in 47 cities, has risen to 1,000, according to the Russian independent humanitarian organization OVD.