28TH OCTOBER 1856 – 165TH ANNIVERSARY OF THE INAUGURATION OF THE FIRST RAILWAY LINE IN PORTUGAL
On October 28, 1856, the first section of the railway in Portugal was inaugurated. With a distance of 36 km, it connected Lisbon (Cais dos Soldados) to Carregado. The new means of transport consisted of two locomotives (the "Portugal" and the "Coimbra") and sixteen carriages. The route to be covered was 36.5 km and took around 40 minutes. The following day, it was open to the public with two round trips per day: Lisbon – Carregado 8:45 am and 4 pm / Carregado – Lisbon 7 am and 2 pm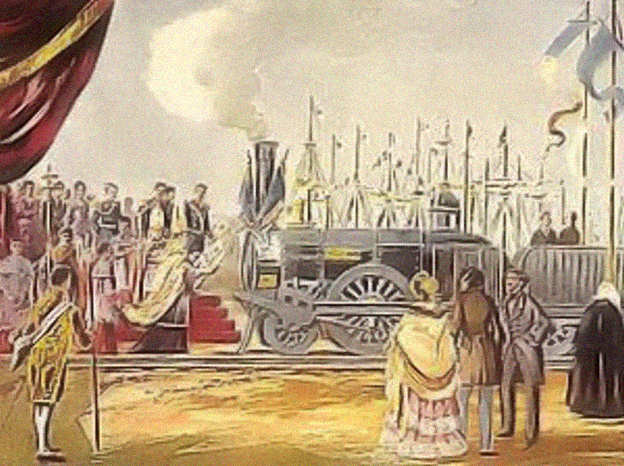 On the opening day, at 10:00 am, the Royal train, pulled by the Santarém and Coimbra locomotives, followed with King Pedro V on board, as well as the Cardinal Patriarch of Lisbon, to bless the new technology. The guests' train, with about 9 carriages, was pulled by the Lisbon locomotive.
At the time, the work was presented as a "great icon of regeneration and policy of national progress", but it was far from being unanimous by the main representatives of national letters at the time. "Almeida Garrett was one of the writers who criticized the introduction of the railway in Portugal, in the 19th century. The author of "Viagens na Minha Terra" considered that the railway "was not the kind of progress that the country needed" and feared that the new means of transport would aggravate the gap between the big cities of the coast and the interior.
165 years later, here we are, benefiting from one of the greatest engineering feats ever made in Portugal, the construction of the railway, carried out by visionaries who went far beyond what had already been imagined and advocated in Portugal. It had its setbacks, as in everything else, the financing, which turned out to be almost entirely private, with the operation of the railway being carried out by private companies
Today the congress will take place at the MNF headquarters, in Entroncamento, in the district of Santarém, organized by the Iberian Association of Railway History (ASIHF), with the collaboration of the Lisbon University Institute (CIES), from the University of Évora (CIDEHUS) and from the Universidade Nova de Lisboa (CIUHCT), with mandatory registration for those who want to participate, according to a note from the museum.
On Thursday, October 28, the day in which, in 1856, the first section of the Portuguese railway between Lisbon and Carregado was inaugurated, the new MNF web page, resulting from the "Museu Nacional Ferroviário" project, becomes available. Welcome All, financed by the Accessible Tourism Support Line, of Turismo de Portugal.
On the same day, at 17:00, a sculptural piece alluding to the Caminho de Ferro, by sculptor João Duarte, will be inaugurated.
The "Joana" Locomotive, with illustration by artist Kruela d'Enfer, will be on display from Friday to Sunday, an initiative included in the European Year of Rail Transport, "which aims to promote the use of the train as a more sustainable means of transport".
On Saturday, from 10:30 am, there will be a visit to the railway districts of Entroncamento, in a partnership with Infraestruturas de Portugal and the Municipality of Entroncamento, which aims to make known the history and future projects of this heritage.
At 11:00 am, the visit "On Board" will allow you to "know inside several carriages, lounges, locomotives and the Presidential Train, on a journey through 165 years of railway history in Portugal", an activity that will be repeated on Sunday afternoon, with interpretation in Portuguese sign language.